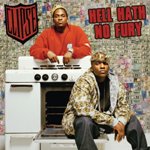 Clipse
Hell Hath No Fury
Re-Up Gang/Star Trak/Zomba

Rating:





If you like good beats and rhymes, you will like this record. If you like lyrics about selling cocaine, you will really like this record. On Hell Hath No Fury, Clipse further the marriage between rapping and "pushing weight" with style and finesse. Just when it seemed that every avenue of word play had been explored in regards to talking about coke, Virginia brothers Malice and Pusha T legitimately raise the bar while glorifying the lifestyle.
Instead of the ever-so-common braggadocio found in cocaine rap, Clipse bring an element of sympathetic guilt. Throughout Hell Hath No Fury, there are a number of religious references that let the world know the
brotherly rap duo have consciences. "Sorry Heavenly father/Once again I hate to bother/Its 'P' the evil creeper sending some to the grim reaper/Meanwhile me and my mistress like Solomon and Sheba," raps Pusha T on "Mamma I'm So Sorry." They make clear, however, that they are young, rich and more concerned with Bapestas and Ferraris, so they're going to enjoy it while they can.
The premier track off Hell Hath No Fury is unquestionably its lead single, "Mr. Me Too." Pharrell must have bought a new production tool to make the "blunted" effects of the song. Still, I thought that after "Frontin" everyone agreed Pharrell shouldn't sing on recordings anymore, but here the brand of a man is at it again in
"Hello New World." With tracks like "Ain't Cha' and "Nightmares," he almost makes up for it –… almost.
Regardless of where your opinions over cocaine rap lie, Clipse undeniably destroy each track. Some of the aggression on Hell Hath No Fury may go deeper than just an assault of hungry emcees, and relate to
their frustration in dealing with Zomba Records, which constantly delayed its release. But now, with Hell Hath No Fury finally out and drawing universal acclaim perhaps Clipse might find peace now with their moral dilemmas.
— James O'Connor