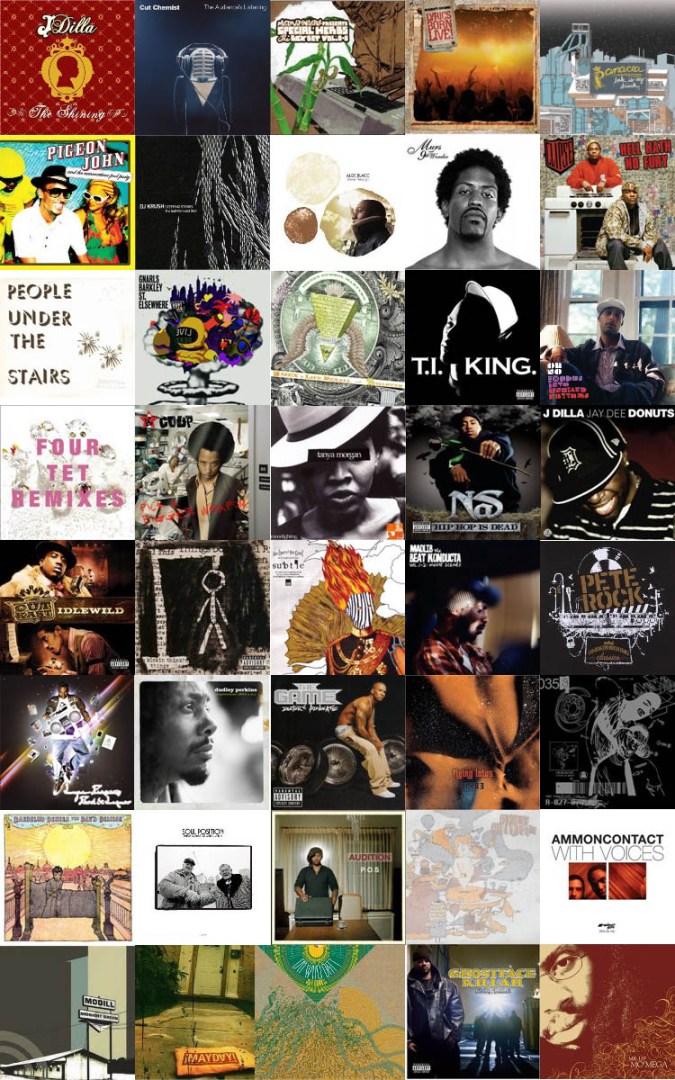 Year-end lists are a necessary evil. On the one hand, they help catalog twelve chaotic months of listening into an orderly group of bests. They're also somewhat arbitrary, often trumpeting fall favorites over early contenders that wore out their welcome. And though the title "best of" confers authority, classics are made over time. The past few years in particular are littered with former "instant classics" that now seem just merely great: Eminem's The Eminem Show, Cam'ron's Purple Haze — …the list goes on and on.
But that's just my opinion.
Anyway, since Plug One just launched two months ago, this unranked list of noteworthy albums is humbler than most. It doesn't include any of the year's leading mixtapes (Lil Wayne and DJ Drama's Dedication II, Asheru's Hip-Hop Dock-Trine: The Boondocks Mixtape) nor some of the better mainstream albums (Busta Rhymes' The Big Bang, Rhymefest's Blue Collar, Field Mob's Light Poles and Pine Trees) because I didn't get a chance to fully assess them. Space considerations kept out several notable independent records, including Aceyalone's Magnificent City, the Procussions' 5 Sparrows for 2 Cents, and Lightheaded's Wrong Way. If 2007 proves as good for hip-hop music as 2006 has been, this list will certainly expand next year.
Having said that, I hope this list makes a statement to those who think that non-mainstream hip-hop, or indie hip-hop, or whatever you want to call it is a moribund genre full of cranks and wannabes. All of the 40 discs on this list are good; some are even great; and a few may someday earn classic status. Most of the selections are left of the dial.
Aloe Blacc, Shine Through (Stones Throw): Until he exploded into wider consciousness with his debut album, Aloe Blacc was mostly unknown as part of Emanon, a group he shares with producer DJ Exile (who is also blowing up). Shine Through unveiled an artist to be reckoned with, one who could make his own beats; sing Afro-Cuban, Afrobeat and R&B tracks with ease; and deliver sensuous raps with an eerie, haunting tenderness.
Ammoncontact, With Voices (Ninja Tune): Sadly, Carlos Niño and Fabian Ammon Alston's fourth collection of dope beats and standout guests didn't get the promotion it deserved. Too bad, because the two musicians' collaborations with Cut Chemist, MF Doom, X-Clan's Brother J, Lil Sci and many others deserves attention.
Clipse, Hell Hath No Fury (Re-Up Gang/Star Trak/Zomba): The Virginia duo's long-delayed second album drew wild, rapturous acclaim from music critics and fans. While noticeably short on topical range, the album is amazingly hard and minimalist. The duo (along with mentor Pharrell Williams) distills cocaine rap styles with pure glee.
The Coup, Pick a Bigger Weapon (Epitaph): The Bay Area group's hardy funk is just a platform for Raymond "Boots" Riley's calls for urban revolution. Without reinventing the wheel on their fifth album, Riley gives you more of his hilarious leftist satire. And if it ain't broke, why fix it?
Cut Chemist, The Audience's Listening (Warner Bros.): Forget the iPod commercial that made his "Listen" single pip out of TV sets nationwide. The Audience's Listening is the next evolution in the turntablist sub-genre and a marvelous debut by the onetime Jurassic 5 producer.
Dabrye, Two/Three (Ghostly International): The Ann Arbor, Mich. producer's follow-up to his 2001 instrumental classic One/Three carried high expectations. Happily, he met them with a disc full of guest shots (from MF Doom and J Dilla, among others) and snapping, neck-cutting beats.
DJ Krush, Stepping Stones: The Self-Remixed Best (Red Ink): The Japanese artist eschews a standard greatest-hits compilation, instead remixing two discs of cuts from his decade-plus recording career (one features guest vocalists and the second is instrumental). The results are sleek and spectral, and bear elements of free jazz, Taiko, electronics and abstract hip-hop.
Dr Who Dat, Beat Journey (Lex): In a year when mainstream rap fans finally "re-discovered" instrumental hip-hop, Philadelphian Jneiro Jarel issued this nattily designed Beat Journey under the pseudonym Dr Who Dat. Full of verve and personality, it references touchstones as varied as the Pharcyde and Arthur Verocai.
E-40, My Ghetto Report Card (Reprise/BME): 13 years after his debut album, E-40 was enlisted to launch hyphy into the mainstream. Though the Vallejo, Calif. veteran responded with an album that's more aggressive than his earlier releases, his agile wordplay and unique slanguage was as strong as ever.
Dudley Perkins, Expressions (2012 a.u.) (Stones Throw): Through song and rap, the man formerly known as Declaime achieved an indescribable voice that was sometimes strange and often profound.
Flying Lotus, 1983 (Plug Research): The Los Angeles producer was the year's big dark horse. Initially released to little notice and fewer reviews, his mysterious and magical take on glitch-hop dynamics soon drew a fervent cult audience, making him one to watch in 2007.
Four Tet, Remixes (Domino): Kieran Hebden is a producer who manipulates electronics like a free-spirited drummer. His fondness for chopping beats has drawn many admirers from the hip-hop world, too; and this two-disc set of remixes demonstrates that the feelings are mutual. Jay Dee and Sa-Ra tackle his tracks, and he returns the favor with a memorably anarchic take on Madvillain's "Money Folder."
The Game, Doctor's Advocate (Geffen): With its intense, Oedipal-like homage to Dr. Dre, Doctor's Advocate is a bizarre album. It's also oddly compelling, and the Game strengthens his thug-isms with surprising lyrical dexterity and disarming honesty.
Ghostface Killah, Fishscale (Def Jam): While Clipse reduced its coke raps to opiate-like crack bits, Ghostface Killah threw a full-blown party. It's full of raunchy skits, violent confrontations, teary confessionals and a host of guests and producers clamoring for the lyrical master's attention.
Gnarls Barkley, St. Elsewhere (Downtown/Atlantic): The knock on St. Elsewhere is that its songs aren't as good as "Crazy," the wildly ecstatic number that finally turned Cee-Lo into an international superstar. While it's hard to top "Crazy," widely hailed as one of the best singles of the year, Cee-Lo and Danger Mouse complement it with a disc full of bravura performances and ace musicianship.
J Dilla, Donuts (Stones Throw): The critical reputation of this delightful instrumental escapade is somewhat inflated, particularly since it was released just days before James "J Dilla" Yancey died. Forgive his supporters for turning a beat record into an overdue celebration of one of hip-hop's greatest producers.
J Dilla, The Shining (BBE): The Detroit icon's final album wasn't finished before he passed away, and it tragically sounds that way: most of the songs don't have his distinctively hard-bitten vocals, and the short disc feels truncated. But the tracks bear his peerless chops, and the guests (Common, D'Angelo, and many others) treat them with reverence.
Lupe Fiasco, Lupe Fiasco's Food & Liquor (1st and 15th/Atlantic): The Chicago rapper announced to anyone who'd listen that he was worthy of Kanye West and Jay-Z's praise. His resulting Food & Liquor delivered plenty of heartfelt songs and, despite a few indulgent missteps, was a noteworthy debut.
Lyrics Born, Overnite Encore: Lyrics Born Live! (Quannum): In a genre widely derided for generating shitty stage performers, Lyrics Born is one of a few (and growing) exceptions. Recorded at a Melbourne, Australia gig, this snapshot of a live concert captures the Bay Area iconoclast at his best.
Madlib as the Beat Konducta, Vol. 1-2: Movie Scenes (Stones Throw): As Stones Throw's signature artist, Madlib uncharacteristically took a back seat in 2006, working behind the scenes during his label's biggest year. This CD release of two vinyl-only instrumental collections was his sole solo credit, an evocative stroll through the cinema of his mind.

Mayday!, Mayday! (Southbeat Records): With a wealthy indie label and mtvU supporting it, this Miami duo seemed primed to disappoint. Surprisingly, its self-titled turned out to be an enjoyable romp through politics, social dynamics and sometimes-uneasy personal relationships.
Metal Fingers, Special Herbs and Spices Vol. 9-0 (Nature Sounds): Under the pseudonym Metal Fingers, MF Doom quietly launched the first Special Herbs and Spices compilation of instrumental tracks in 2001. Five years later, Doom is a popular and highly sought rap artist. Much like 9th Wonder, however, he's usually dismissed as a loop maker when it comes to his beats. This Special Herbs collection demonstrates why his production talents are valued by artists like Ghostface Killah and Talib Kweli.
Mr. Lif, Mo Mega (Definitive Jux): Lif's second full-length divided critics and fans, with some arguing that El-P's idiosyncratic production overwhelmed the Boston rap star's songs. Both artists gave impassioned performances, and Mr. Lif's lyrics found him in top form.
Modill, Midnight Green (EV Productions): Chicago underdogs Modill crafted an unexpected beauty with their full-length debut, one that paired souled-out tracks with natty rhymes and guest shots from Diverse, Dave from De La Soul, and Truth Enola.
Murs & 9th Wonder, Murray's Revenge (Record Collection): A longtime West Coast fixture, Murs scored an unexpected indie hit with this, his second collaboration with Little Brother's star producer. At its best, he offers the equivalent of a T-bone steak: just good hip-hop music, straight up.
Nas, Hip-Hop is Dead (Def Jam): Many fans and critics forget (or blithely ignore) that Nas carved out a successful career after making Illmatic, one of the greatest albums of the past two decades. On his eighth album he continues to foil his detractors with a meditation on his first love.
Oh No, Exodus into Unheard Rhythms (Stones Throw): For his second album, Oh No establishes a unique concept: building all his tracks from Galt MacDermot's catalog, and then invites a host of MCs (Wise Intelligent, Buckshot and many others) to spit inspired and elaborate rhymes.
OutKast, Idlewild (LaFace/Zomba): The Atlanta duo's hastily-assembled soundtrack to their ill-fated 30s musical is as willfully experimental and tentative as their past albums were assuredly confident. Despite a collection of songs that clearly aren't their best, Big Boi and Andre 3000 exhibit more ambition and creativity than the rest of their peers.
P.O.S., Audition (Rhymesayers): The Minneapolis Afro-punk emcee began to realize his esoteric talents with his second album, a disc that finds a place for Rhymesayers' motley crew of artists and indie-rock heroes like dive bar poet Craig Finn.
Panacea, Ink is My Drink (Glow in the Dark): This is a lovely debut from producer K-Murdock and emcee Raw Poetic. The Washington, D.C. duo complement each other perfectly, making music as sweet and romantic as an evening spent under the night sky.
People under the Stairs, Stepfather (Tres): Thes One and Double K are the best in the unfairly maligned true school sub-genre, making music that weds mid-90s boom bap styles with refreshingly honest life stories. On their fourth album, they adhered to their winning musical formula with fantastic results.
Pete Rock, Underground Classics (Rapster): Assembled by Fat Beats DJ Kon (of Kon and Amir), Underground Classics collected some of the Chocolate Boy Wonder's less-known cuts, including Pete Rock and CL Smooth's memorable "Back on the Block" and several INI gems.
Pigeon John, Pigeon John and the Summertime Pool Party (Quannum): After years spent issuing solo albums and making tracks with LA Symphony, this singer, rapper and unabashed Christian finally got picked up by an indie label with national connections. He responded with a joyously happy musical adventure, and tempered his goofy, family-friendly rhymes with a B-boy-turned-man's insight and wisdom.
The Roots, Game Theory (Def Jam): The Roots are often judged according to what they haven't accomplished, like mainstream pop success or a universally-hailed classic. Give them credit for what they've done: an impeccable discography that now spans seven challenging, thought-provoking concept discs.
$martyr, Money Symbol Martyrs (Cornerstone R.A.S.): While little-known outside the West Coast, Alejandro "2Mex" Ocaña is one of the best rappers in hip-hop. Known as a restless stylist, this collaboration with producer/emcee Liferexall may be his most accessible to date.
Soul Position, Things Go Better with RJ and Al (Rhymesayers): The Ohioans' second album is full of uncomplicated beats and sturdy rhymes, and Blueprint's repertoire sharply ranges from joke raps ("Blame it On the Jager") to insightful messages ("The Cool Thing to Do").
Subtle, For Hero: For Fool (Astralwerks): Anticon star Dose One formed Subtle with several musician friends, as a vehicle for improvisational music. While he began his career as an MC who battled Eminem to a standstill, few critics consider the group's masterful For Hero: For Fool to be a hip-hop album. Nevertheless, Dose One's unique use of poetry and rhyme continues to realize unseen potential within the art of rap music.
Tanya Morgan, Moonlighting (Loud Minority Music): Why did this modest debut by an oddly-named hybrid of two separate acts — Illwil and Von Pea — draw praise from jaded rap critics? The album is so easy and freewheeling that it takes you back to a time when hip-hop was all about hanging out with friends, being creative and having fun.
T.I., King (Grand Hustle/Atlantic): Like so many mainstream rappers, T.I. isn't capable of plumbing complex emotional and topical depths. What the charismatic emcee offers on his fourth album is a gallery of catchy, memorable hits that confirm his status as a budding superstar.
Various Artists, Chrome Children (Stones Throw): In 2006, Stones Throw marked its tenth anniversary by assembling its biggest, most varied and most challenging slate, and issued albums as varied as the late beat master J-Dilla (Donuts) and the fascinatingly oblique Georgia Ann Muldrow (Olesi: Fragments of an Earth). The L.A. imprint's hard work paid off with a newfound reputation, after years spent as a runner-up to Definitive Jux and Rhymesayers, as the number one indie hip-hop label. Chrome Children, a joint venture with Cartoon Network's Adult Swim, celebrates Stones Throw's breakthrough year with a compilation of cuts from its acclaimed roster.