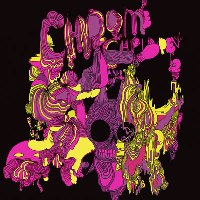 Stones Throw has done it again. Today the fan-friendly indie rap label will issue Chrome Children 2 for free. It follows Madlib & Talib Kweli's Liberation, an internet-only EP posted on the Stones Throw website for just a week (and is no longer available).
Much like its predecessor, last fall's Chrome Children, this compilation is a collaboration with frat-boy haven Adult Swim. The first edition sampled from the label's roster; Chrome Children incorporates close associates like Four Tet, Dabrye and West Coast hip-hop legend Arabian Prince.
Chrome Children 2 will only be available on Adult Swim and Stones Throw for a month, so get your download pronto.
In related news, Aesop Rock leaked news of Def Swim, a collaboration between Definitive Jux and Adult Swim, on his MySpace page last week. He writes that it will be made available on February 26. However, Definitive Jux hasn't released official details yet.
In the meantime, here's the track listing for Chrome Children 2:
1. Madlib, "Chrome Dreams" (produced by Madlib)
2. MED & Dabrye, "Rhymes with an L" (produced by Dabrye)
3. Roc C, "Living for the City" (produced by Oh No)
4. Chocolate Star, "Stay with Me" (produced by Gary Davis)
5. Percee P, "Reverse Part Two?" (Koushik Remix)
6. Oh No, "Get Back" (Produced by Decypher)
7. Guilty Simpson & Four Tet, "Money Motivated Movements" (produced by Four Tet)
8. Madlib, "Selah's Children" (produced by Madlib)
9. Baron Zen, "BZ Theme?" (Danny Breaks Remix)
10. Aloe Blacc, "Happy Now?" (produced by Four Tet)
11. J.Rocc, "Bubbha's Dance" (produced by J.Rocc)
12. Gary Wilson, "Soul Traveling " (produced by Gary Wilson)
13. Clifford Nyren, "Keep Runnin' Away " (Egon's edit, produced by Clifford Nyren)
14. The Jazzistics, "Marcus, Martin and Malcolm" (produced by Yesterdays New Quintet)
15. James Pants, "Murder" (produced by James Pants)
16. Arabian Prince, "Strange Life" (produced by Arabian Prince)
Read Rachel Swan's review of Chrome Children.
Adult Swim's Chrome Children micro site
www.stonesthrow.com
www.myspace.com/stonesthrow
www.adultswim.com