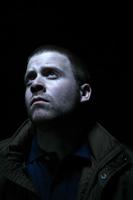 While you mull over that sloppy-ass Super Bowl game, consider another event of magnitude — a new El-P album! After a five-year hiatus that saw him carefully navigating Definitive Jux through backlash criticism (S.A. Smash, anyone?) and a tentative comeback (thanks to Cage and the Perceptionists), Jamie Meline is ready to step back into the spotlight. His new album, I'll Sleep When You're Dead, is set for release on March 20, and it features a doozy of guests, from Trent Reznor and Cat Power to Def Jukkies Aesop Rock and Camu Tao. A teaser single, "Everything Must Go," has been spinning across college radio stations for weeks. And though it sounds like vintage El-P — his production style is as familiar as the RZA's at this point — it doesn't sound as weird as you might expect.
El-P will perform a handful of tastemaker shows when the album hits stores, including an appearance at Coachella. There's no SXSW dates yet, but I'm sure it's in the offing. In the meantime, check out the dates below.
3/22: Bowery Ballroom, New York, NY
3/23: Logan Square Auditorium, Chicago, IL
3/25: Mezzanine, San Francisco, CA
3/26: The Troubadour, LA, CA
4/27: Coachella, Indio, CA
For those who don't live in a major metropolitan area, here's the track listing for I'll Sleep When You're Dead. Most of the tracks feature turntable cuts by Mr. Dibbs.
Intro: "Moog Liberation" (w/Matt Sweeney, Wilder Zoby)
1: "Tasmanian Pain Coaster" (w/Omar Rodriguez-Lopez & Cedric Bixler-Zavala of The Mars Volta)
2: "Smithereens (Stop Cryin)" (w/Hangar 18)
3: "Up All Night"
4: "EMG" (w/Big Wiz)
5: "Drive"
6: "Dear Sirs"
7: "Run the Numbers" (w/Aesop Rock)
8: "Habeas Corpses (Draconian Love)" (w/Cage, Daniel Kaufman, Mr. Len)
9: "The Overly Dramatic Truth" (w/Darryl Palumbo of Head Automatica, Camu Tao)
10: "Flyentology" (w/Trent Reznor of Nine Inch Nails)
11: "No Kings" (w/Tame One)
12: "The League of Extraordinary Nobodies" (w/Joey Raia, Slug and Murs)
13: "Poisenville Kids No Wins/Reprise (This Must Be Our Time)" (w/Cat Power, Kareem Bunton, Ikey Owens of The Mars Volta)