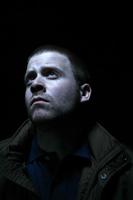 March 2007 belongs to El-P. Whether it's for getting into that silly beef with Rawkus, drawing rapturous acclaim for his brilliant I'll Sleep When You're Dead, or debuting his Abu Ghraib-inspired video for "Smithereens (Stop Cryin')" on the New York Times website, El Producto has been all up in the national conversation.
If you get El-P's MySpace bulletins, then you must have turned green with envy from reading tales of sold-out shows in New York, Austin, Miami and San Francisco. "Well god damn. every show sold out. every show off the motherfucking charts. sf burned to the floor boards last night. sold out crowd on a sunday night. something is happening here, and it feels good," he wrote on a recent post.
But after a quick trip to Europe, he'll return to North America for an extensive tour. He toured for nearly a year and a half in support of 2002's Fantastic Damage, so it's certain that everyone who wants to see him will get their chance. No word on who will support him as a show opener, but Aesop Rock held him down on recent dates.
Here are the tour dates:
4/27: Coachella, Indio, CA
5/01: Middle East, Boston, MA
5/02: Le National, Montreal, QC
5/03: The Opera House, Toronto, ON
5/04: Beachland Ballroom, Cleveland, OH
5/05: Little Brothers, Columbus, OH
5/06: Magic Stick, Detroit, MI
5/07: Top Cats, Cincinnati, OH
5/08: Abbey Pub, Chicago, IL
5/10: Granada, Lawrence, KS
5/11: Bluebird Theatre, Denver, CO
5/12: The Depot, Salt Lake City, UT
5/14: Neumo's, Seattle, WA
5/15: Richard on Richards, Vancouver, BC
5/16: Wonder Ballroom, Portland, OR
5/18: Great American Music Hall, San Francisco, CA
5/23: The Clubhouse, Tempe, AZ
5/24: Sunshine Theatre, Albuquerque, NM
5/27: Emo's, Austin, TX
5/28: Numbers Night Club, Houston, TX
5/30: House of Blues, New Orleans, LA
6/02: Common Grounds, Gainesville, FL
6/07: Cat's Cradle, Carrboro, NC
6/08: 9:30 Club, Washington, DC