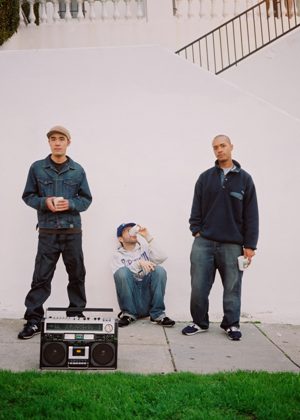 Charlie Murphy would be proud.
In an interview with Plug One, Therapy, one-fifth of the ABs (or the Alias Brothers, formerly known as Asamov), quoted the "Chappelle's Show" comedian when describing this year's A3C Independent Hip-Hop Festival, set to take place from Thurs., April 12 to Sat., April 14.
"It's a celebration, bitches!" says Therapy.
Brian Knott and Kevin Elphick, co-founders of Arc the Finger Records, the Atlanta-based independent hip-hop label that hosts the annual three-day event, feel the same way. Last year, 800 strong turned up for A3C — enough to officially sell out the venue. This year, Knott and Elphick plan an even bigger turn out, enough to not only sell out the venue, but piss off the fire marshal.
Given 2007's lineup, Knott and Elphick just may be getting a call from the Atlanta Fire Department. A3C is, foremost, a local music festival — nearly a third of those performing during the event are from Atlanta. But unlike years' past, ATF Records is flying in some of the biggest names in independent hip-hop from across the United States.
"It will be our first show that we've ever done on the East Coast," says Newman, emcee for LA trio Giant Panda. Cool Calm Pete from New York, Black Milk from Detroit, Sol.illaquists of Sound from Orlando and Souls of Mischief from Oakland are some of the other cross-continental heavy-hitters performing this weekend.
"[A3C] is good for West Coast artists and, you know, artists from New York, or somewhere up northeast, to come down and be able to see what's going on [in Atlanta]," says Newman. "And also have everybody check out what their doing."
Because all the artists on the bill are independent, few have the budget to fund an extensive U.S. tour. A3C is an opportunity for these musicians to meet those who they have, up to this point, only admired through their headphones. "It gives cats a chance to network and build," says Therapy, "not only with other artists but with the fans as well."
Another reason the 2007 A3C could be the biggest yet is that it brings 30-some musicians to a single venue for only $32 over three nights. It helps that the Loft in Midtown Atlanta isn't particularly big. "It's just a more intimate situation, and it draws the fans in closer and it makes them feel like a part of it again, you know," says Therapy. "Especially the disenfranchised fan that can't seem to find anything they like on the radio."
The 2007 A3C is also hosting a hoard of other side-show spectacles. Local beatboxer Dres tha Beatnik hosts the stage each night, and DJ Rasta Root, Rob Wonder and Dirty Digits rock the ones and twos. An exclusive preview of the documentary Wu: The Story of the Wu Tang Clan will be shown on Thursday at 6 p.m., and a before-the-party BBQ will be held Saturday at 1 p.m. at Dumpsterdive Records. (Per the A3C website: "Free food and a monsoon of cheap beer.") Saturday will also see the "Jam on the Spot" B-boy/B-girl competition, which promises ten $50 prizes to the best breakdancers.
"It's going to be a good vibe. My guess is there won't be much violence; my guess is there will probably be a lot of good vibes," says Therapy.
The A3C festival has epitomized independent hip-hop for three years running. Since its inception in 2005, it has embodied everything that fans love about the genre. Really, it's a celebration, bitches!
— Christopher D. French
For more on A3C 2007, visit www.a3c2007.com.