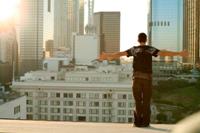 Last year represented a watershed year for Los Angeles' hip-hop and beat cultures, and perhaps its most creatively productive moment since the late 90s (when the Project Blowed movement held sway). Discs from Georgia Anne Muldrow, Dudley Perkins/Declaime, Aloe Blacc, Flying Lotus and others (most of them included in Plug One's Top 40 albums of 2006) drew widespread acclaim and controversy as cutting-edge works, and overdue jockery from trend bibles like The Fader.
ArtDontSleep presents From L.A. with Love is the latest compilation to celebrate L.A.'s vibrant underground — props to Dublab's 12-inches, Hefty's "Immediate Action" series and Plug Research's "The Sound of L.A." for laying the groundwork. But From L.A. with Love, set for a June 5 release on Milan Records, arrives at a key time when the scene threatens to achieve wider notoriety. Participants include Daedelus (as Adventure Time) and Madlib (as Yesterdays New Quintet and Sound Directions).
The CD is curated by Andrew Lojero, a promoter who collaborated in Prima Lux with Pablo Like Picasso and the late, lamented DJ Dusk; and currently operates under the brand ArtDontSleep. From L.A. with Love will include tracks from the city's finest (including several of the aforementioned musicians) artists, both visual and musical.
Here's the track listing:
1. From Leaf to Feather, "Night Sun"
2. Nobody presents Blank Blue, "All the Shallow Deep"
3. Sound Directions, "Wildflower"
4. Tarek "DJ Dusk" Captan, "Let Me Know"
5. A Race of Angels, "Just Begin"
6. Adventure Time, "This Dome is Our Home"
7. Nathan Yell, "Goodbye"
8. Coleman, "No Strings Attached"
9. Computer Jay feat. the Gray Kid, "1000 Fold"
10. Exile, "In the Night 22"
11. Georgia Anne Muldrow, "Killa Peach"
12. Flying Lotus, "It's a Secret"
13. Take feat. Gaby Hernandez, "Walk Away"
14. Yesterdays New Quintet, "I Remember John Coltrane"
15. The Gaslamp Killer feat. Gonjasufi, "Kobwebs"
16. Free Moral Agents, "Sound at Sea"
17. Carlos Nino & Miguel Atwood-Ferguson, "Nag Champa"
Photo of Andrew Lojero by Theo Jemison.