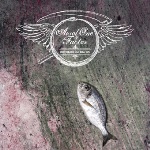 Awol One & Factor
Only Death Can Kill You
Cornerstone R.A.S.

Rating:



Only Death Can Kill You opens with "Sunrise Sandwich," a melancholy dream of a song slowed down to 78. Awol One enters with "See I don't know, but today seems kinda odd/I hate the sunrise as much as the sunset," evoking the flipside of Ice Cube's "It Was a Good Day." But even he can't keep a dour face for long: "You're determined to be famous/But you're destined to be infamous/Watching the trailer, say hi to your neighbor/Do me a favor, sucker, and stop rapping."
That's how it goes with Awol One. One minute you're amazed by his candor and honesty; the next minute you're amused by his droll one-liners. Only Death Can Kill You, a pairing with Canadian producer Factor, carries a depressive tone, and is marked by bleak and bitter numbers such as "Old Babies" and "Sunday Mourning." "Sunday I'm a sleep away the pain/And Monday I'm a face it again/Standing alone on the road/Just like the crossroad fork," says Awol One on the latter. But he usually cuts through the darkness with his irrepressible humor. Bizarrely (and hilariously), he even begins to moan like a sad old dog to hum soulfully and out of tune.
Awol One is part of a crew of Los Angeles MCs whose talents are only outmatched by their prolificacy. Only Death Can Kill You isn't his best work, due to Factor's unremarkable beats. For every "Sunrise Sandwich" or "Alpha Omegatron," the latter a yearning percussive groove reminiscent of DJ Shadow, there's "Sunday Mourning," a plain, repetitive backing track. The melodic, classic West Coast pop sound of tracks such as "One More" can be found on so many L.A. underground records that it's almost become a cliché.
The best thing that can be said of Only Death Can Kill You is that it feels smoked-out and casual, like a bunch of cats sitting around the living room, blowing reefer and tossing out non-sequiturs. Indeed, "One More" begins with the sound of a blunt being sparked. Its chilled-out, nonplussed vibe is part of its slacker charm.