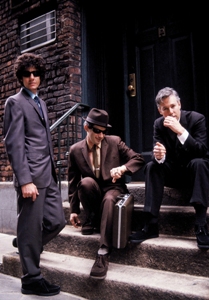 The Beastie Boys have embraced a strange contradiction. On the one hand, their instrumental album The Mix-Up earned reviews that ranged from middling to scathing — though not necessarily worse than those that greeted their last proper full-length, 2004's To the Five Boroughs, which led Village Voice to call the group washed up.
On the other hand, their national tour is completely sold out. In fact, their live shows always sell out. The Brooklyn trio may be in the legacy chapter of its two-decade-plus career, but it is a glorious legacy. Their first three albums are not only core hip-hop texts, but rock and roll classics. Their brash, obnoxious style resonates loudly in current music, from Andre "I fuck like a ninja" Legacy to "Fett's Vette" nerdcore hero MC Chris. Beastie Boys are unquestionably one of the great artists of the past twenty years.
So perhaps this tour, like others before and surely others after, will be about witnessing the greats before they become too removed from their glory years. Of course, the next album can always restore their primacy…who knows?
In the meantime, check out the tour dates below. One dollar from each ticket benefits Artists Resources in Action (ARIA), which has set up an EcoFund for the tour. Fans are also encouraged to bring their old cellphones and PDAs for cellular recycling. For more on the latter initiative, visit www.reverbrock.org/beastieboys.
8/01: Festival Pier, Philadelphia, PA
8/02: The Borgata, Atlantic City, NJ
8/04: Pimlico Race Course, Baltimore, MD
8/05: Boston Opera House, Boston, MA
8/06: Bank of America Pavilion, Boston, MA
8/08: Central Park Summerstage, New York, NY
8/09: McCarren Pool, New York, NY
8/10: Hammerstein Ballroom, New York, NY
8/16: Red Rocks Amphitheater, Denver, CO
8/17: Fillmore, Denver, CO
8/19: Greek Theater, Los Angeles, CA
8/20: Greek Theater, Los Angeles, CA
8/21: The Wiltern, Los Angeles, CA
8/23: Santa Barbara County Bowl, Santa Barbara, CA
8/24: The Warfield, San Francisco, CA
8/25: Greek Theater, Berkeley, CA
8/04: Virgin Festival
www.beastieboys.com
www.myspace.com/beastieboys