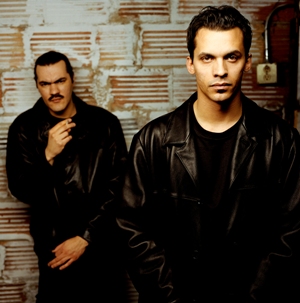 It's an annual tradition. Every year, Minneapolis heroes Atmosphere head out on the road, bringing their brand of emotional hip-hop to American youth everywhere. This year has been a relatively quiet one so far, though. Slug and Ant (who just produced Brother Ali's critically acclaimed The Undisputed Truth) have been hard at work on their sixth album, When Life Gives You Lemons…, which is tentatively set for release next spring.
Earlier this month Atmosphere issued an EP on its Rhymesayers label, Sad Clown Bad Summer, to tide their fans over. They also scheduled a month-long jaunt. But this tour won't aim at the indie-rap loving Emo's clubs of the world. Instead, the group will head to secondary markets like Lubbock, Tex. and Santa Cruz, Calif. Fans in those cities will get a nice package, since Portland goth-rappers Grayskul, living legend Luckyiam, and Minneapolis upstart Mac Lethal will be joining them. (September 6 update: New dates have been added below.)
Tour dates are below. Try to purchase your tickets through Atmosphere's Ducat King vendor; it will contribute a dollar towards victims of the recent I-35 bridge collapse in Minneapolis for every ticket sold.
9/14: Pizza Luce, Duluth, MN
9/15: Pizza Luce, Duluth, MN
9/17: Intersection, Grand Rapids, MI
9/18: Mr. Small's Theatre, Millvale, PN
9/20: Ram's Head Live, Baltimore, MD
9/21: Lupo's Heartbreak Hotel, Providence, RI
9/22: Toad's Place, New Haven, CT
9/23: Cat's Cradle, Carrboro, NC
9/24: 40 Watt Club, Athens, GA
9/26: Tipitina's, New Orleans, LA
9/27: Palladium Ballroom, Dallas, TX
9/28: Jake's Sports Cafe, Lubbock, TX
10/01: Orpheum Theater, Flagstaff, AZ
10/02: Henry Fonda Theater, Los Angeles, CA
10/03: Belly Up Tavern, Solana Beach, CA
10/04: Downtown Brewing Co., San Luis Obispo, CA
10/05: The Dome, Bakersfield, CA
10/06: Catalyst, Santa Cruz, CA
10/08: Midtown Ballroom, Bend, OR
10/09: Nightlight Lounge, Bellingham, WA
10/10: Venue, Boise, ID
10/11: In the Venue, Salt Lake City, UT
10/12: Ogden Theatre, Denver, CO
10/13: Belly Up Aspen, Aspen, CO
10/15: Pabst Theater, Milwaukee, WS
10/16: Barrymore Theatre, Madison, WS
10/17: Playmaker's Pavilion, Fargo, ND
10/21: The Canopy, Urbana, IL
10/22: The Metro, Chicago, IL
10/23: University of Wisconsin-Stout, Menomonie, WI
10/24: The Blue Note, Columbia, MO
10/25: Granada, Lawrence, KS
10/28: Rialto Theatre, Tucson, AZ
10/30: Emo's, Austin, TX
11/01: The Conservatory, Oklahoma City, OK
11/02: Picador, Iowa City, IA
9/14-10/16: w/Grayskul, Luckyiam, Mac Lethal