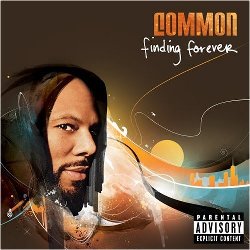 Common
Finding Forever
Geffen

Rating:





Those looking for the album that elevates Common into a game-changing, epoch-making artist won't find it in Finding Forever. True to his namesake, Common is about churning out albums that quietly impress you without dazzling you with their virtuosity. He essentially returns to the career-saving formula on Be: a few rhymes that reflect on social ills, a handful of battle raps, some love joints, and that's it.
At a little under 50 minutes, Finding Forever makes for a compact statement that is both comforting and familiar. Kanye West returns as executive producer, and G.O.O.D. Music fam like Devo Springsteen help out on the boards. As usual, class analysis and a keen awareness of how easily one can tumble from the sidewalk to the gutter lies at the heart of Common's lyrics. "I watched Crash and realized that we're all survivors/No religion or race could ever describe us," he rhymes on "Forever Begins" over a military beat and the stomping drums of a spiritual army. Why does the underclass, specifically the gangster, drug dealers, and little girls lost, figure in his vision so prominently when he clearly lives on a higher financial strata? "When I see them strugglin' I think how I'm touchin' them," he rhymes on "The People."
Finding Forever is so thematically predictable that it doesn't have the surprising turns and sonic adventurousness that define a classic album. Remember how M.O.P. popped in out of nowhere on Kanye West's The College Dropout? Common tries a similar tactic by adding Lily Allen's light, fragile voice to "Drivin' Me Wild," a poppy and cautionary tale about loose women. But the effect isn't the same. Nevertheless, Common knocks out twelve tracks that hit with remarkable consistency, from the poignant "U Black, Maybe," a snapshot of talented African-Americans felled by jealous neighbors, to "So Far to Go," where he adds new lyrics to a J Dilla love jawn first heard on the latter's The Shining.
Many artists, particularly ones who want to veer from the snap-trap-gangsta rap styles, try to mimic the glossy, heavily orchestrated feel of Kanye West's productions. (See Lupe Fiasco, Rhymefest, et cetera.) But Common truly knows how to rock a West beat, vocally spicing up the aspirational melodies that float above them and lyrically slamming against the earthy hip-hop drums that gird them. On "Southside," the two trade rhymes with abandon, and Common brags, "Back in 94 they called me Chitown's Nas/Now them niggas know I'm one of Chitown's gods." 14 years deep, Common has become a brand name as familiar as Kraft and Motorola, "a conscious nigga with mac like Steve Jobs."