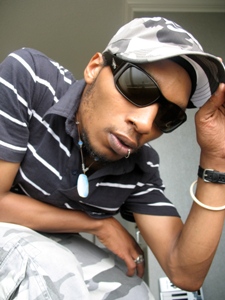 It seemed like it was finally coming. Del the Funky Homosapien's new album, The 11th Hour, was scheduled for an October 16 release, ending over seven years of silence. Then it was delayed again.
This time, according to an interview with the Smoking Section, the pushback is due to a fomenting arrangement with Definitive Jux which, if all goes to plan, will issue the album early next year in conjunction with Hiero Imperium.
"Looks like I'm possibly fucking with El-P you know for the release of this through Def Jux. I've known El-P for a long time," Del told the Smoking Section. "11th Hour is my best work to date. It's a Del album so don't expect to be listening to no crazy space shit or none of that shit. If you want that you got to listen to Deltron. This is strictly about me, how I get down, my real world shit and I how I get through it."
In the meantime, Del is giving fans a taste of The 11th Hour during a two-month tour. Joining him on the Serendipity tour is Devin the Dude, the much beloved Houston rapper whose laconic drawl gives Del a run for his money. As usual, Bay Area rapper Bukue One will help move the crowd. Other guests slated to pop up include Hieroglyphics associate A-Plus and, on selected dates, Embedded crews Junk Science and Iller Than Theirs.
Sounds like lots of fun! Check and see if Del's Serendipity tour is coming through your town by perusing the dates below.
9/21: Avalon, San Jose, CA
9/22: The Catalyst, Santa Cruz, CA
9/23: SLO Brewing, San Luis Obispo, CA
9/24: House of Blues, Los Angeles, CA
9/25: Belly Up Tavern, Solana Beach, CA
9/27: Jillian's, Las Vegas, NV
9/28: Orpheum Theater, Flagstaff, AZ
9/29: Marquee Theater, Phoenix, AZ
9/30: Sunshine Theater, Albuquerque, NM
10/02: The Warehouse, Houston, TX
10/03: Emo's, Austin, TX
10/04: La Tipitinas, New Orleans, LA
10/05: Spanish Moon, Baton Rouge, LA
10/06: Beta Bar, Tallahassee, FL
10/07: State Theater, Tampa, FL
10/09: The Social, Orlando, FL
10/10: Village Tavern, Charleston, SC
10/11: Georgia Theater, Athens, GA
10/12: Orange Peel, Asheville, NC
10/13: Cat's Cradle, Carrboro, NC
10/14: Satellite Ballroom, Charlottesville, VA
10/15: Sonar, Baltimore, MD
10/16: Black Cat, Washington, DC
10/18: Dragonfly, Harrisburg, PA
10/19: BB King's, New York, NY
10/20: Middle East, Boston, MA
10/21: Higher Ground, Burlington, VT
10/23: Blind Pig, Ann Arbor, MI
10/24: Skully's, Columbus, OH
10/25: The Dame, Lexington, KY
10/26: Bluebird Theater, Bloomington, IN
10/27: The Metro, Chicago, IL
10/28: High Noon Saloon, Madison, WI
10/29: Pizza Luce, Duluth, MN
10/30: First Avenue, Minneapolis, MN
10/31: Slowdown, Omaha, NE
11/01: Cervantis, Denver, CO
11/02: Aggie Theater, Ft. Collins, CO
11/03: Belly Up Tavern, Aspen, CO
11/04: Fox Theater, Boulder, CO
11/05: Suede, Park City, UT
11/07: Humboldt State University, Humboldt, CA
11/08: Roseland, Portland, OR
11/09: Showbox, Seattle, WA
11/10: WOW Hall, Eugene, OR
11/13: Slim's, San Francisco, CA
11/14: Slim's, San Francisco, CA
9/21-11/14: w/Devin the Dude, A-Plus, Bukue One
10/20-11/05: w/Junk Science, Iller Than Theirs
10/27: w/Lyrics Born
www.myspace.com/delthefunkyhomosapien