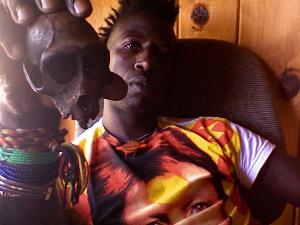 Last week, Saul Williams made a surprise announcement when he declared that he would release his next album on Halloween. Produced by Trent Reznor of Nine Inch Nails, The Inevitable Rise and Liberation of NiggyTardust! is the spoken-word legend's third album, and first since his 2004 self-titled disc.
"The Inevitable Rise and Liberation of NiggyTardust! is the lovechild of Trent and me," says Williams in a press release. "The Niggytardust concept sets me free to do more on stage with costume, etc. than one might expect from a regular Saul Williams show. It allows me to put my theatre training to use. I've also thought long and hard about all the discussion surrounding racial epithets etc. and chose this title as a means of furthering the dialogue while also showing how creativity will outlive and outshine hatred of any kind."
Williams will take a page from the Radiohead playbook and sell his album for free or for a $5 donation. But unlike Radiohead — which angered fans by selling a low-quality 160kb version of In Rainbows — Williams will offer high-quality formats such as 192kb, 320kb, and FLAC (Free Lossless Audio Codec). The 320kb and FLAC formats are only available to those that make the $5 donation. NiggyTardust is on sale at www.saulwilliams.com.
The press coverage surrounding Niggytardust has focused on Reznor's involvement and its digital sales gimmick, but it may also turn out to be a significant artistic statement, too. Despite his storied history as a sometime actor, published poet, musician and philosopher, Williams has yet to make a full-length album that mirrors his ambitions. With Niggytardust, the third attempt may be the charm.
The track listing is below.
1. "Black History Month"
2. "Convict Colony"
3. "Tr(n)igger"
4. "Sunday Bloody Sunday"
5. "Break "
6. "NiggyTardust"
7. "DNA"
8. "WTF!"
9. "Scared Money"
10. "Raw"
11. "Skin of a Drum"
12. "No One Ever Does"
13. "Banged and Blown Through"
14. "Raised to be Lowered"
15. "The Ritual"
www.saulwilliams.com
www.myspace.com/saulwilliams