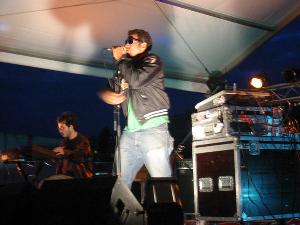 Sometimes, when you're a poet who dabbles in hip-hop, people tend to label you as a hip-hopper and nothing else. Just ask Saul Williams…or Mike Ladd. A poet who earned a master's degree from Boston University, he has directed films and contributed to academic journals and anthologies. Recently, he assembled a sound installation with jazz pianist Vijay Iyer, Still Life with Commentator, for the Brooklyn Academy of Music. (The two released a similarly-titled album on Savoy Jazz earlier this spring.) Still, all us rap heads want to know is, when is he doing another album?
But Ladd's been doing music, fool, just not the rap stuff we're used to from his Infesticons project (including the 2003 chapter Beauty Party). In fact, he has released nearly an album a year for almost a decade. One of his works, Nostalgialator, was released in Europe on !K7 in 2004. The eclectic project, assembled with NYC avant-gardian Scotty Hard, is a typically eccentric affair, ranging from electro-funk to spazzed-out dance-punk.
"A Nostalgialator is the ultimate post-futurist leisure tool," Ladd cryptically told the BBC back in 2004. "With one press of a button you can be back in a perfect past with all your favourite clothes and music. But I wouldn't recommend getting one because you might actually end up in the reality of that past."
Definitive Jux plans to reissue Nostalgialator for U.S. consumption on January 15. It should satisfy Ladd's fans — at least those who haven't already bought it at import prices — until he finishes the third chapter in his Infesticons morality tale, Domesticons, sometime next year.
The track listing for Nostalgialator is below.
1. "Dire Straits Plays Nuremberg"
2. "Trouble Shot"
3. "Housewives at Play"
4. "Black Orientalist"
5. "Wild Out Day"
6. "How Electricity Really Works"
7. "Off To Mars?"
8. "Learn To Fall"
9. "Afrotastic"
10. "Nostalgialator"
11. "Sail Away Ladies"