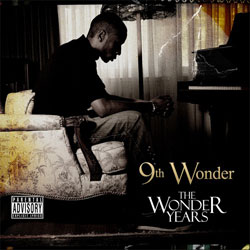 Durham, N.C. production wiz 9th Wonder is scheduled to kick off 2008 with two full-length albums.
The first, The Wonder Years, is scheduled for a January 26 release on Asylum Records. Guests on the album include Erykah Badu, Teedra Moses, Talib Kweli and Mos Def. The second album reunites him with Buckshot, with whom he made the 2005 album Chemistry. Their new collaboration, The Formula, comes out via Duck Down on March 18 and features guest spots from Kweli and Raheem DeVaughn. The first single from The Wonder Years, "Miss Diva," features Kweli and Tyler Woods.
In an interview with HipHopDx.com, 9th Wonder said, "Sonically, people can expect bigger sounding beats, more expansion of my sound. There will be an element of classic, throwback R&B, but with a current twist. With this album, I'm not only defining myself, but I'm defining people in my age group. It's not necessarily an underground or overground thing, you just want to find the music that fits you and where you are in your life right about now. That's what The Wonder Years is for me."
Other 9th Wonder credits to look for include Murs' new album, Murs for President, which is scheduled for the spring; Erykah Badu's upcoming album, Nu AmErykah, for which he produced the lead single, "Honey"; and tracks for underground associates such as Torae and M1 Platoon.
January 31 update: 9th Wonder's The Wonder Years has been postponed. A new release date has not been scheduled yet.
www.myspace.com/9thwondermusic