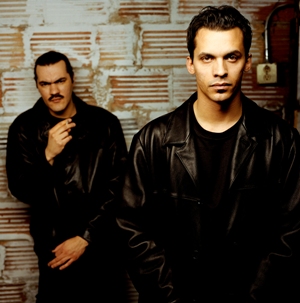 Atmosphere is set to release its first album since 2005's underrated You Can't Imagine How Much Fun We're Having. On April 22, the Minneapolis, Minn. group drops When Life Gives You Lemons, You Paint That Shit Gold through its Rhymesayers label.
Though it's been three years since the last Slug & Ant "emo-rap" epic, he and Ant have been very busy in the last year or so. Ant masterminded Brother Ali's critically acclaimed album The Undisputed Truth. And last summer, Atmosphere returned to Sad Clown Bad Dub, the series through which they first launched their career, for a quartet of seasonal EPs: Sad Clown Bad Summer #9, Sad Clown Bad Fall #10, and Sad Clown Bad Winter #11. The fourth and final chapter, Sad Clown Bad Spring #12, is scheduled for release right before When Life Gives You Lemons drops.
If that didn't build enough buzz, Atmosphere issued a free Internet album, Strictly Leakage, on their MySpace page over the holidays. (You can still download it there and on Atmosphere's profile on the Rhymesayers website.) According to a press release, the album has been downloaded over 60,000 times.
When Life Gives You Lemons will undoubtedly benefit from the Warner Bros. distribution deal that Rhymesayers announced last year. There will be a limited-edition package of the album that is encased in a 40-page black fabric book with gold embossing, and include lyrics, an illustrated children's story from Slug, and a bonus DVD of footage from last year's "Everybody Loves a Clown" tour and other treats. The track listing, which was unveiled on Pitchforkmedia.com today, is listed below.
"When Life Gives You Lemons, You Paint That Shit Gold will mark Atmosphere's most complete album to date," reads the aforementioned press release. "Recorded in the dead of winter, and influenced by fatherhood, Slug's storytelling and Ant's lush melodies have never been more poignant."
1. "Like the Rest of Us"
2. "Puppets"
3. "The Skinny"
4. "Dreamer"
5. "Shoulda Known"
6. "You"
7. "Painting"
8. "Your Glass House"
9. "Yesterday"
10. "Guarantees"
11. "Me"
12. "Wild Wild Horses"
13. "Can't Break"
14. "The Waitress"
15. "In Her Music Box"
Photo by Dan Monick.