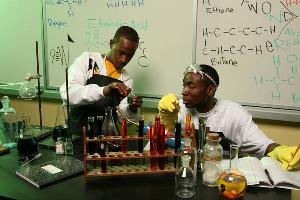 As most 9th Wonder fans know by now, Asylum Records has put the North Carolina producer's major-label debut The Wonder Years on hold … for now. However, it's full speed ahead for the second leg of 9th's spring attack: a new album with Buckshot from Boot Camp Clik.
9th Wonder and Buckshot's The Formula drops April 15 on Duck Down Records. It's the follow-up to the duo's 2005 collaboration, Chemistry. The project includes a few guests such as North Carolina singer Carlitta Durand, Talib Kweli and several members of M1 Platoon.
"Every song is dealing with a topic. Each track specifically has a formula," says Buckshot in a press release. "I've always had a certain sound within Hip-Hop and 9th Wonder helps bring out my unique style. We share a comfort level that allows me to be at ease when it comes to recording and that natural sound translates into great music."
Heads tend to scrutinize and fuss over 9th Wonder's work; it's why he's one of the most influential producers to emerge this decade. Will The Formula meet his fans' high standards? Check out the track listing below.
1. "Intro – The Formula" (feat. the Formula Crew)
2. "Ready (Brand New Day)"
3. "Be Cool" (feat. Swan)
4. "Go All Out" (feat. Carlitta Durand)
5. "No Future"
6. "Hold It Down" (feat. Talib Kweli & Tyler Woods)
7. "Whassup with U" (feat. Keisha Shontelle)
8. "Only For You (Lou)"
9. "Just Display"
10. "Here We Go"
11. "Throwin' Shade"
12. "Shinin' Yall" (feat. Arafat Yates & Big Chops of M1 Platoon)
13. "Man Listen"
www.9thwonder.com
www.myspace.com/9thwondermusic
www.myspace.com/bdithug