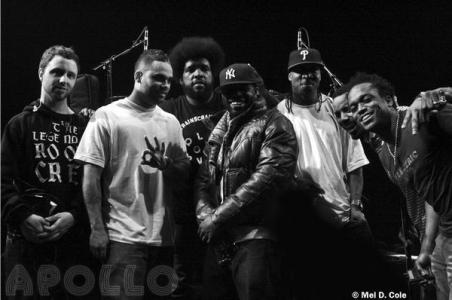 Visitors to Okayplayer.com will notice that the hype machine is in full gear for the next Roots opus. Their eighth album, Rising Down, is scheduled for release via Def Jam on April 29.
To stoke the online faithful, the Roots has released a new video for their debut "street" single, "75 Bars (Black's Reconstruction)." (You can download the video at Okayplayer.com.) They've also unveiled the first wave of dates for what will undoubtedly be a long and extensive world tour. And finally, the Roots have a new bassist to replace founding bassist Hub, who left the group in 2007: bassist Owen Biddle.
No track listing has been revealed yet. However, several song titles have been carefully leaked to satisfy the online rabble, including an "official" first single, "Birthday Girl," with Fall Out Boy lead singer Patrick Stump. "We don't know if we're gonna have another chance for a grand statement," Questlove told MTV.com. "We're not playing. This is probably our most political record."
Excited yet? Check out the tour dates below.
3/07: Langerado Music Festival, Homestead, FL
3/08: House of Blues Lake, Buena Vista, FL
3/09: Janus Landing, St Petersburg, FL
3/29: Millikin University, Decatur, IL
3/30: Kool Haus, Toronto, ON
4/05: University of Texas, Austin, TX
4/07: Indiana University, Bloomington, IN
4/09: Higher Ground, Burlington, VT
4/11: Pickle Barrell Nightclub, Killington, VT
4/12: Northeastern University, Boston, MA
4/16: Purdue University West, Lafayette, IN
4/17: Carnegie Mellon University, Pittsburgh, PA
4/18: Webster University, St. Louis, MO
4/20: Green Apple Festival, Washington, DC
4/26: Tigerfest Towson University, Towson, MD
5/03: Jazz & Heritage Festival, New Orleans, LA
5/04: House of Blues, New Orleans, LA
Photo by Mel D. Cole