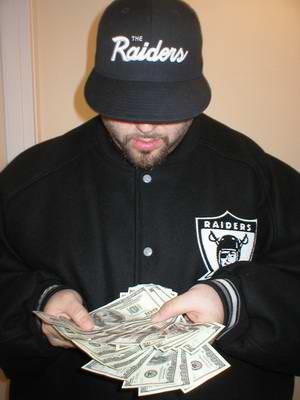 After losing a Warner Music Group distribution deal for his Uncle Howie imprint last fall, backpack thug pioneer Ill Bill has found a new partner in Strange Music, home of Kansas City eccentric Tech N9ne. It will help release his new album, The Hour of Reprisal, on June 17.
Guest appearances include Raekwon the Chef, Immortal Technique, Everlast, B-Real, his younger brother Necro, Vinnie Paz from Jedi Mind Tricks, Bad Brains, Max Cavalera from Soulfly and Howard Jones from Killswitch Engage. Producers include DJ Muggs, DJ Premier, DJ Lethal, and Ill Bill himself. The music promises to reflect Ill Bill's twin passions for hardcore hip-hop and extreme metal.
"An abrasive, hard-as-nails MC/producer, Ill Bill steps to the unsuspecting planet with a meticulously crafted album comprised of his world view, conspiracy theories, street corner conversation and the most potent of all, real-life experiences that carry the listener through a perspective that stands unique," reads a press release. "With tracks like 'White Nigger,' 'My Uncle,' 'War is My Destiny' and 'A Bullet Never Lies,' Ill Bill's The Hour of Reprisal builds upon Ill Bill's iron reputation for touching on a number of crucial issues – socially relevant, as well as personal."
Ill Bill will preview The Hour of Reprisal with a nationwide tour alongside Tech N9ne and Paul Wall, of all people, bringing the evil beats to suburban gangsters everywhere. Check out the dates below.
3/28: Fillmore Auditorium, Denver, CO
3/29: The Great Salt Air, Salt Lake City, UT
3/30: The Big Easy, Boise, ID
3/31: Wilma Theater, Missoula, MT
4/01: The Big Easy, Spokane, WA
4/02: The Big Easy, Spokane, WA
4/03: Moore Theater, Seattle, WA
4/04: Roseland Theater, Portland, OR
4/05: McDonald Theater, Eugene, OR
4/06: Salem Armory, Salem, OR
4/07: Midtown Music Hall, Bend, OR
4/08: Mateel Center, Eureka, CA
4/09: Medford Armory, Medford, OR
4/10: Senator Theater, Chico, CA
4/11: Stoney's, Reno, NV
4/12: Phoenix Theatre, Petaluma, CA
4/13: Catalyst, Santa Cruz, CA
4/14: House Of Blues, San Diego, CA
4/15: Crash Mansion, Los Angeles, CA
4/18: Rialto Theatre, Tucson, AZ
4/19: Sunshine Theatre, Albuquerque, NM
4/20: Marquee Theater, Tempe, AZ
4/22: House of Blues, Dallas, TX
4/23: Expo Park Exhibit Hall, Great Falls, MT
4/24: The Blue Note, Columbia, MO
4/25: Uptown Theater, Kansas City, MO
4/26: McElroy Center, Waterloo, IA
4/27: Val Air Ballroom, Des Moines, IA
4/28: Swiftel Center, Brookings, SD
4/29: Myth, Maplewood, MN
4/30: The Rave, Milwaukee, WI
5/01: Congress Theater, Chicago, IL
5/02: Emerald Theater, Mt. Clemens, MI
5/03: Peabody's, Cleveland, OH
5/04: Peabody's, Cleveland, OH
5/05: Rex Theater, Pittsburgh, PA
5/06: Crocodile Rock, Allentown, PA
5/07: Irving Plaza, New York City, NY
5/08: The Palladium, Worcester, MA
5/09: Lupo's, Providence, RI
5/10: Toad's Place, New Haven, CT
5/11: Toad's Place, Richmond, VA
5/12: Headliner's, Louisville, KY
5/13: The Pageant, St. Louis, MO
5/15: The Cotillion, Wichita, KS
5/16: Cain's Ballroom, Tulsa, OK
5/20: Playmakers, Fargo, ND
5/22: Casper Event Center, Casper, WY
5/24: Shrine Auditorium, Billings, MT
5/25: Rushmore Plaza Civic Center, Rapid City, SD