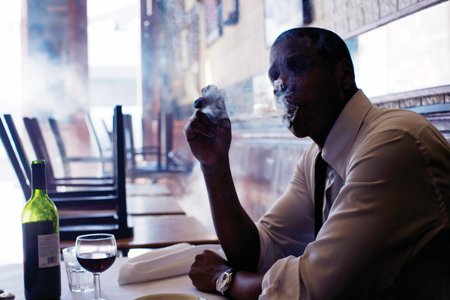 A New York Times story posted this evening (April 2) reports that Jay-Z is leaving Def Jam and joining forces with music industry behemoth Live Nation.
According to the story, Jay-Z is on the verge of signing a $150 million deal that would give Live Nation a stake in his business ventures (including the 40/40 nightclub chain), which will be consolidated under the umbrella company Roc Nation; publishing and merchandising deals; and touring revenue. In addition, the story says that the company will give Jay-Z a $10 million advance for each album recorded over the next 10 years. The deal calls for a minimum of three albums.
Many acts, most with proven drawing power on the road, have signed highly publicized 360 deals with Live Nation — multi-million-dollar contracts encompassing merchandising, touring revenue and, in some cases, record sales — including U2 and Madonna. But Jay-Z — arguably the biggest hip-hop artist in the world — is the first hip-hop artist to pair with the former Clear Channel-owned corporation.
Jay-Z has recorded for Def Jam since 1997's In My Lifetime, Vol. 1, making it one of the longest tenures in the hip-hop world. However, after contract talks between Def Jam and Jay-Z regarding his position as label president fell apart last year, many speculated whether or not Jay-Z would stay with the company after his contract was up. (He owes Def Jam one more studio album.) Sundry rumors suggested that he would launch a new hip-hop company with Apple.
The story answers some of those questions, stating that Live Nation will help finance Jay-Z's new, unnamed record company. But it doesn't specify how Jay-Z's music will be distributed, or whether a major label with better distribution channels might step in as well. It's also unclear whether Jay-Z will continue to have a say in the direction of Roc-A-Fella, the legendary label he launched with Damon Dash in 1996 and sold to Def Jam in 2004. Regardless, as one of the most influential artists of the past decade, Jay-Z's departure from Def Jam is a historic event.
Jeff Leeds writes in the story, "Though sales for Jay-Z's tour with Ms. Blige have been strong since it began on March 22, with almost all the early dates resulting in sold-out arenas, it is unclear when Live Nation could carry out other aspects of the deal. (Jay-Z said that he hoped to deliver his final album for Def Jam later this year.)"
The deal answers a question that had been circling through the rap world for months: Where would Jay-Z take his next corporate role? As part of the arrangement, Live Nation would finance the start-up of a venture that would be an umbrella for his outside projects, which are expected to include his own label, music publishing, and talent consulting and managing. Live Nation is expected to contribute $5 million a year in overhead for five years, with another $25 million available to finance Jay-Z's acquisitions or investments, according to people in the music industry briefed on the agreement. The venture, to be called Roc Nation, will split profits with Live Nation.

The overall package for Jay-Z also includes an upfront payment of $25 million, a general advance of $25 million that includes fees for his current tour, and advance payment of $10 million an album for a minimum of three albums during the deal's 10-year term, these people said. A series of other payments adding up to about $20 million is included in exchange for certain publishing, licensing and other rights. Jay-Z said Live Nation's consolidated approach was in sync with the emerging potential "to reach the consumer in so many different ways right now." He added: "Everyone's trying to figure it out. I want to be on the front lines in that fight."