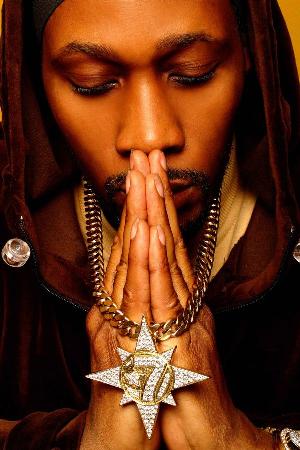 When we last heard about the RZA, dude was getting reamed by his Wu-Tang mates for supposedly ruining their reunion album, 8 Diagrams. Ghostface and Raekwon talked shit about him in the press, and U-God filed a lawsuit against Wu Music Group, claiming that he's owed back royalties. The eight members even launched a tour of the States — without the Abbott.
But while the Clan's aging rhyme warriors drop their little mixtapes and sing the oldies, RZA is launching new and innovative projects. He'll issue his latest Bobby Digital epic, Digi Snax, via Koch Records on July 1. (July 11 update: The release date has been changed to June 24.) Like his recent creative decisions with the Wu, the RZA's Bobby Digital project has drawn criticism — I remember how disappointed some were when 1998's Bobby Digital in Stereo didn't have more "conscious" lyrics. (Ah, those were the days.)
The RZA has also formed Achozen, a new supergroup with Shavo Odadjian from System of a Down, Chicago rapper the Reverend William Burke and onetime Killarmy member Kinetic 9. They finished a debut album that comes out this summer on Odadjian's digital label urSession. Scheduled guests on the disc include George Clinton, John Frusciante from Red Hot Chili Peppers, Killah Priest, the GZA and Sick Jacken from the Psycho Realm.
Other endeavors include a chess site (WuChess.com), a few acting gigs (Life is Hot in Cracktown and Repossession Mambo), and continued work on the new season of Afro Samurai. (Thanks to Allhiphop.com for the additional info.)
With all that going on, all the RZA needs to do now is remind people that he's more than just the Wu. So he's heading on tour in June with Stone Mecca, a backing band that appears on Digi Snax. The dates are below.
6/10: Warehouse Live, Houston, TX
6/11: Emo's, Austin, TX
6/12: Palladium Ballroom, Dallas, TX
6/14: Cervantes Masterpiece Ballroom, Denver, CO
6/15: Urban Lounge, Salt Lake City, UT
6/17: Rialto Theater, Tucson, AZ
6/18: Brickhouse Theater, Phoenix, AZ
6/20: Henry Fonda Theater, Los Angeles, CA
6/21: 1015 Folsom, San Francisco, CA
6/23: Hawthorne Theater, Portland, OR
6/24: Showbox, Seattle, WA
6/25: Richards on Richards, Vancouver, BC
6/27: Sled Island Music Festival, Calgary, AB
6/30: First Avenue, Minneapolis, MN
7/01: House Of Blues, Chicago, IL
7/02: Crofoot Ballroom, Pontiac, MI
7/03: Metropolis, Montreal, QC
7/04: New Capital Music Hall, Ottawa, ON
7/05: Webster Hall, New York, NY
7/07: Trocadero, Philadelphia, PA
7/08: 9:30 Club, Washington, DC
6/10-7/08: w/Stone Mecca
www.myspace.com/therza
www.wutang-corp.com