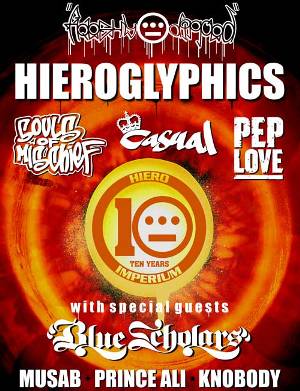 It's been a little over ten years since Del, Souls of Mischief, Casual and producer Domino launched Hiero Imperium. So this summer, the crew will celebrate with the Freshly Dipped Tour, a summer-long trek through North America.
Oddly, at the moment, it looks like Del the Funky Homosapien, perhaps the best known Hiero member, will not be on the tour. However, everyone else will be there, including Pep Love (who joined the crew in 1998). In addition, they'll bring along their new Hiero Imperium label mates, all whom dropped albums last year: Musab (former member of Atmosphere, who dropped the controversial The Slicks Box), Knobody (who issued Tha Clean Up) and Prince Ali (author of Curb Side Service). A non-affiliated group, critically-acclaimed Seattle duo Blue Scholars, will finish the bill. (June 17 update: Tanya Morgan has just been added to the show.)
Other treats to look out for include a new album from Souls of Mischief's Opio, Vulture's Wisdom, Vol. 1, set for release in July; a commemorative seven-inch single featuring Hiero and Blue Scholars; and the premiere of the collective's new Hiero Jeans.
"We are putting this tour together to thank our fans for their years of loyal support, expose them to our new projects including our brand-new lifestyle line, Hiero Jeans, and to celebrate the ways that hip-hop style has influenced the fashion world," says Tajai from Souls. He replaced Domino as Hiero Imperium's CEO in 2006.
The Freshly Dipped Tour promises lots of good hip-hop, but Del will be missed. Hopefully he'll make it out to some of the dates. In the meantime, check out the current itinerary; as usual, I'll update when more information becomes available.
6/14: Berkeley Community Theatre, Berkeley, CA
7/11: Glasshouse, Pomona, CA
7/12: El Rey Theater, Los Angeles, CA
7/13: Belly Up Tavern, San Diego, CA
7/14: Beauty Bar, Las Vegas, NV
7/15: The Clubhouse, Tempe, AZ
7/16: Orpheum, Flagstaff, AZ
7/17: Sunshine Theater, Albuquerque, NM
7/18: Granada Theater, Dallas, TX
7/19: Emo's, Austin, TX
7/20: Parrish, New Orleans, LA
7/22: The Social, Orlando, FL
7/23: Masquerade, Atlanta, GA
7/24: Cat's Cradle, Carrboro, NC
7/25: The Music Farm, Charleston, SC
7/26: Soapbox, Wilmington, NC
7/27: Steppin Out, Virginia Beach, VA
7/29: Bedrock, Baltimore, MD
7/30: The Note, West Chester, PA
7/31: Highline Theater, New York City, NY
8/01: Jerky's Live, Providence, RI
8/02: The Middle East, Boston, MA
8/03: Higher Ground, Burlington, VT
8/05: Babylon, Ottawa, ON
8/06: Mod Club, Toronto, ON
8/07: The Salt Lounge, London, ON
8/08: Blind Pig, Ann Arbor, MI
8/09: Skully's, Columbus, OH
8/10: Abbey Pub, Chicago, IL
8/12: High Noon, Madison, WI
8/13: First Ave, Minneapolis, MN
8/14: Waiting Room, Omaha, NE
8/15: Fox Theater, Boulder, CO
8/16: Urban Lounge, Salt Lake City, UT
9/18: The Fillmore, San Francisco, CA
9/19: Senator Theatre, Chico, CA
9/20: Colonial Theatre, Sacramento, CA
9/22: Midtown, Bend, OR
9/23: McDonald Theatre, Eugene, OR
9/24: Roseland, Portland, OR
9/26: Showbox, Seattle, WA
9/27: Showbox, Seattle, WA
9/28: Richards on Richards, Vancouver, BC
9/29: Element, Victoria, MB
10/01: Oasis, Reno, NV
10/02: The Catalyst, Santa Cruz, CA
7/11-10/02: w/Blue Scholars, Musab, Prince Ali, Knobody
7/11-8/15: w/Tanya Morgan
www.hieroglyphics.com
www.myspace.com/hieroglyphics