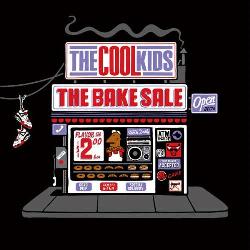 The Cool Kids
The Bake Sale
Chocolate Industries

Rating:



The Cool Kids first legitimate recording, The Bake Sale, feels like the closing of a first chapter. Most of its tracks have circulated around the Internet for several months, catapulting the previously unknown Mikey Rocks and Chuck Inglish onto a support slot for M.I.A.'s U.S. tour last fall and into the pages of several magazines, most notably the cover of URB. When heard via MySpace, spun piecemeal on an iTunes player, an iPod or in a cloistered nightclub, these songs sound like modest little wonders fattened with booming bass and snappy hooks. But when gathered together into the duo's first real artistic statement, their strengths and weaknesses come into view.
That's not to say that The Bake Sale doesn't bang. Songs such as "One, Two," where Mikey Rocks percussively loops a girl lolling "da da da da," and the fat bass bottom underneath "Black Mags," sound wondrously blank and minimalist. Even if Mikey Rocks tends to borrow bass styles from other regions for his Chicago coolness – particularly the old-school booty bass codes of deep South towns like Miami and Atlanta and the pre-rugged noise of mid-80s golden age New York – he mixes his influences into a distinct new vision: the freewheeling hipster consumerism of "Gold and a Pager" and "A Little Bit Cooler."
"So I'm sitting on the couch/Holding the remote/Flipping channels/I'm a rebel/Eating a bowl of them Fruity Pebbles/Fruity Pebbles/Fruity Pebbles/How gangsta is that?" raps Chuck Inglish. Confirming his unconsciously middle-class ambitions, he adds on "88," "I'm doing what I do like I do it for TV/I guess what I'm doing I'm doing to keep these/Shoes on my feet, sweeter than sweet peas."
The Cool Kids relatively blithe approach to regionalism and class issues is what makes The Bake Sale – and the Chicago hipster scene from which they emerged – so interesting, if only because it's been several years that a mainstream hip-hop group has been unafraid to skirt these topics. It's refreshing, even if the choruses pale in comparison to the dope beats, and Mikey Rocks and Chuck Inglish tend to meander during their rap verses. They aspire to old-school glory, but don't have the killer lines and succinctly fly rhymes that typified Schoolly D and Biz Markie's classics. Instead, the Cool Kids are learning to make a new kind of classic edition, one both informed and unencumbered by the past.