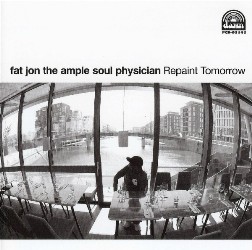 I was scrolling through Discogs this evening and found a pleasant surprise: Fat Jon the Ample Soul Physician has just released a new album.
Fat Jon is best known as one-half of Five Deez, a Columbus, OH group that had a nice run in the early 00s. Since moving to Berlin a few years ago, Fat Jon disappeared from view in the States. (His former partner in Five Deez, Pase Rock, is now a successful — albeit foulmouthed — New York party rapper.) But he continues to produce quality work overseas, issuing instrumental hip-hop albums as well as electronic projects with Styrofoam and Pole.
Fat Jon's Repaint Tomorrow was released by P-Vine Records on August 2. Since it's a Japanese release, it will probably run you $30 or more in import prices, so try to find a digital copy.
1. "Kissed In Shadow"
2. "Spacesuit Proper"
3. "Innocent At Once"
4. "Soundgirl Personal"
5. "W.Y.P.A.U."
6. "Rose Antennae"
7. "Party Foul"
8. "Long Now"
9. "Lighthouse Sleeper"
10. "Repaint Tomorrow"
11. "Imagine Seven"
12. "Muses"
13. "Leyes"
14. "Hero Style"
15. "Tranquilizer"
16. "Berlin Grey"
17. "Sunrain"
18. "Aesthetica"
19. "Do It Like My Robots"