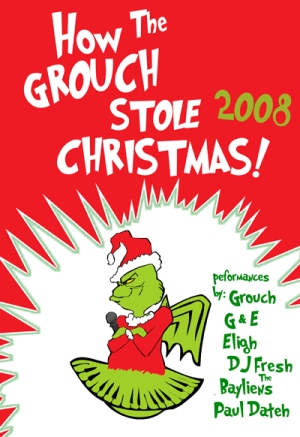 It's only right that the Grouch should do a tour called The Grouch Stole Christmas. Set for next month, the Grinch-inspired holiday run also features Eligh, the Grouch's partner in G&E. Here's the press release:
This December, The Grouch will be bringing hip-hop fans the, "How the Grouch Stole Christmas Tour". Initially started as an annual show held in Oakland, CA, The Grouch decided to take the show on the road for the holiday season. He will be accompanied by fellow Living Legends crew member, Eligh as they perform solo sets as well as a combined G&E (The Grouch & Eligh) set, along with their DJ, DJ Fresh. Accompanying The Grouch will be the up and coming Bay Area trio, "The Bayliens", and handling opening duties will be hip-hop violinist Paul Dateh who has been growing a buzz in the music scene over the past year.

What's more, they will perform new, never before heard tracks from their forthcoming spring album, Say G&E (Legendary Music) Featuring a host of emcees, including Gift of Gab, Pigeon John, Mista Fab, Blu, Micheal Marshall, Sage Francis, Slug, this record (a March 2009 release) will not disappoint. Guest producers on the album include: Flying Lotus and AmpLive of Zion I, among others.
12/08: Domino Room, Bend, OR
12/09: Neumo's, Seattle, WA
12/10: Berbati's Pan, Portland, OR
12/11: WOW Hall, Eugene, OR
12/12: Red Fox Tavern, Arcata, CA
12/13: Empire, Sacramento, CA
12/14: Phoenix Theater, Petaluma, CA
12/19: Voodoo Lounge, San Jose, CA
12/20: Terrace Restaurant, Pasadena, CA
12/27: Whiskey Dick's Saloon, South Lake Tahoe, NV
12/28: Club Underground, Reno, NV
12/08-12/28: w/Eligh, DJ Fresh, the Bayliens, Paul Dateh