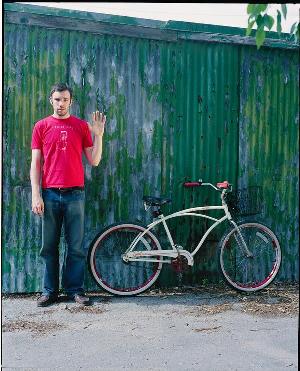 Earlier this year, between August and October, Buck 65 issued a trilogy of works called Dirtbike directly to the Internet. Why am I only writing about this now? Because I know and hear about a lot of music, but I don't know everything.
Ah, but I digress. Dirtbike, according to Buck 65's notes on his website, consists of three parts, each of which lasts around an hour. The first and third edition appear to have been released as a long, single-track MP3s, much like his 2000 album Man Overboard. Dirtbike 2 is available as both a single MP3 and several individual tracks.
For the Dirtbike series, Buck 65 recruited an impressive list of collaborators. Buddy Peace, D-Styles, Jel from Themselves/Subtle, Moka Only, Mia Clarke (formerly of Electrelane), Dose One, Cadence Weapon, Sage Francis and Skratch Bastid (who produced Buck 65's 2007 album Situation) are only a few of the contributors. The music ranges from throwback hip-hop to stylized spoken-word pieces and covers of old country and blues songs.
No Buck 65 release would be complete without a long essay describing his artistic intentions, and he did not disappoint for Dirtbike. Below are excerpts from a "Love Letters" post on his website:
I have completed the task I had set out for myself to put together three huge album's worth of music in three months – what's been called the 'Dirtbike' project. In these last three months I managed to write and record approximately 70 songs. The three "albums" are each around an hour in length. …

Right now I think of Dirtbike 1-3 as a woodshed demo project. But I've wanted to share this work, at this stage, with anyone who was interested in hearing it. So I sent copies to a few friends and to the people who contributed and they've floated around a bit from there. …

These 'albums' aren't for sale and never will be. Never-ever.

It was just really important for me at this point in my career to act creatively without any consideration for money or press or anything other than art. I refuse to see any of this work as a failure in terms of sales or critical response or whatever. So I guess it could be said that this is just something I had to do for myself.

Finally, these recordings were made at home with crappy gear and were mixed in headphones that are 15 years old and were never very good in the first place. So they are pretty lo-fi. So for the few of you who will hear them, they're best heard in headphones. On a stereo and especially in a car, they will probably sound awful.
Since Buck 65 didn't officially post the Dirtbike series on his website or his MySpace page, it can be a bit tricky to get a hold of all three volumes. Buddy Peace has download links on his MySpace page, but the link for the second volume doesn't seem to work. UGSmag.com has also posted links.