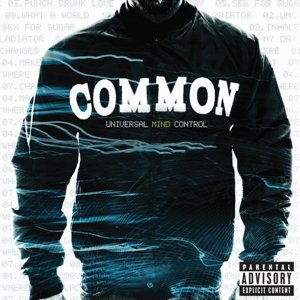 Common
Universal Mind Control
Geffen

Rating:





Universal Mind Control may be the worst album of Common's career, but it's not for the reasons you'd think. It's not bad because Common plays with the electro-funk sound that has overtaken dance clubs. There's a need for a hip-hop artist to bring integrity to a sub-genre that, until now at least, has been overrun by filthy-mouthed party rappers (see Uffie, Spank Rock, etc.) What if an MC of Common's caliber not only rhymed over a Lifelike beat, but also brought "The Corner"-style lyricism? He could have brought back the hip-house peak of the late 80s, a time when EPMD and Stetsasonic flirted with house beats, by making fun and intelligent party tracks. And it's not as if he hasn't explored that territory before, as his back catalog includes a fresh guest appearance on Armand Van Helden's "Full Moon."
The title track, with the Neptunes' soaring keyboard riff and Pharrell's semi-robotic chorus, appears to be an opening statement towards that purpose. But after kicking off the album with "Universal Mind Control (UMC)," Common subsequently hedges his bets instead of pushing full-throttle into dance floor heaven. If he had stuck with the electro-funk game plan he declared via MTV and other media, Universal Mind Control could have been, at the least, a noble failure on par with 2002's Electric Circus, when he explored black rock aesthetics with interesting if unsuccessful results. But without Electric Circus' focused vision, Universal Mind Control wanders through ten bad pop tunes, from the goofy 808-and-autotune beat (courtesy of Kanye West) on "Punch Drunk Love" to the bland synthesizer ballad "Changes" (which wastes an ethereal chorus from rising soul artist Muhsinah).
Meanwhile, Common offers some of his worst rhymes to date. For "Sex 4 Suga," he copies Grandmaster Melle Mel's cadence for choice words such as "I like the way you're making my nature rise/We can do more than fantasize/Let's do the do, me and you/We can wo-wo-wo and whoopty-woo." On "Announcement," he continues to train wreck, rhyming, "See them rappers/They be ducking/When Common be bucking/In the kitchen fucking/On the sink, got my momma a mink." And he continues a long-running tradition with yet another blasphemous spin on his classic "I Used to Love H.E.R.": "I still love h.e.r./She be needing the dick/When it come to hip-hop it's just me and my bitch."
So what the hell happened? It seems that Common didn't spend enough time on the Universal Mind Control, which arrives a little over a year after his last album, the considerably better Finding Forever. Some of its songs, particularly "Gladiator" and "What A World," sound like unfinished demos, with Common repeating the same lines over and over again as if he hadn't written enough lyrics yet. Maybe he was too busy starring in popcorn movies like Angelina Jolie's Wanted and Keanu Reeves' Street Kings. Hollywood must be rubbing off on him; with Universal Mind Control, he's made an album that's just as hackneyed and creatively bankrupt as those dumb action flicks.