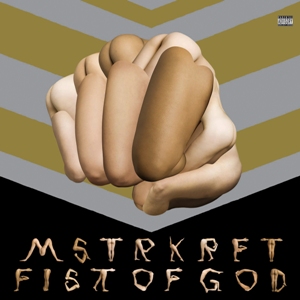 MSTRKRFT will issue its second album, First of God on March 17 via Dim Mak/Downtown Records. As the duo has revealed in interviews, the music will be somewhat different from their club favorite, 2006's The Looks. Of course, Justice went on to conquer the world (or at least the Internet) with an eerily similar sound, so MSTRKRFT may be trying to even the score with this one. Towards that end, they've recruited a slew of rappers, including Ghostface Killah, E-40 and Freeway.
I try to avoid wasting visual real estate on mainstream projects unless I believe they'll have more intelligence than the usual hip-pop confections. The teaser single for Fist of God, "Bounce" (with N.O.R.E. from Capone-N-Noreaga), was pretty craptastic. But based on The Looks, I have hopes that this album will be more than just a one-note electro-funk joke.
Here's a bit from the bio:
The long awaited sophomore album from MSTRKRFT will be released on Dim Mak / Downtown Records March 17, 2009. Fist Of God is the highly anticipated follow up to the Canadian duo's massively successful 2006 debut The Looks and features contributions from N.O.R.E. , Ghostface Killah, bay area hip hop icon E-40, Freeway, Lil' Mo and John Legend. Jesse Keeler and Al-P revisit the raw influences of their early punk roots with a nod to the house styles from Chicago and Detroit on Fist of God – but this is by no means a "retro" record. MSTRKRFT have carved out an original audio blueprint that fragments all boundaries and preconceptions of contemporary dance music and extends a defiant fuck you to purists and trendsetters.
1. "It Ain't Love" (feat. Lil Mo)
2. "1000 Cigarettes"
3. "Bounce" (feat. N.O.R.E. & Isis)
4. "Vuvuvu"
5. "Heartbreaker" (feat. John Legend)
6. "Fist Of God"
7. "So Deep" (feat. Jahmal from the Carps)
8. "Click Click" (feat. E-40)
9. "Word Up" (feat. Ghostface Killah)
10. "Breakaway" (feat. Jahmal from the Carps)
11. "1000 Cigarettes" (feat. Freeway)
Download: "Bounce" (A-Trak remix)