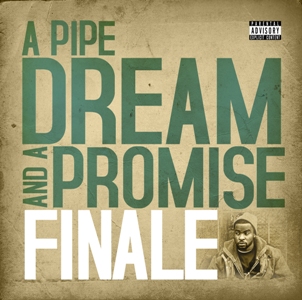 Detroit rapper Finale is preparing to issue his new album A Pipedream And A Promise. It's set for release via Interdependent Media this spring.
Best known for his appearances on Invincible's ShapeShifters and Dabrye's Two/Three, Finale has gathered an impressive lineup of producers, including the late J Dilla, Black Milk, Ta'Raach, Waajeed, Dimlite, Flying Lotus, Khrysis, Nottz and Oddisee. Lyrical guest spots come from Invincible and, surprisingly, old-school legends Prince Whippa Whip from Cold Crush Brothers and Awesome Dre.
And now for the press release:
At a time when chasing money supersedes chasing dreams, Detroit's Finale has proudly done the opposite. A former automotive engineer for the Big Three, the Morehouse drop-out decided that he would devote five years to his passion of hip-hop before deciding what his life's calling would truly be.

"That was seven years ago," jokes Finale. With rich histories in both the auto industry and music, he opted for the latter, perhaps a bit more stable in these times. "I wanted things to happen naturally," says the emcee. In his community, open microphones, showcases and emcee battles prompted Finale to mingle with local talents like One.Be.Lo and Guilty Simpson, while winning the respect of producers including Black Milk, Nottz and the immortal J Dilla. The career and personal sacrifice of Finale is captured on A Pipedream And A Promise, featuring the producers mentioned.
1. "Arrival & Departure" (feat. Awesome Dre)
2. "Style"
3. "Pay Attention"
"Interlude – Beat the Drums"
4. "The Waiting Game" (feat. Invincible)
"Interlude" (feat. Prince Whippa Whip from Cold Crush Brothers)
5. "One Man Show"
6. "Jumper Cables"
7. "A Reason"
8. "Motor Music"
9. "Heat"
10. "Issue"
"Interlude" (feat. Prince Whippa Whip from Cold Crush Brothers)
11. "Brother's Keeper"
12. "The Senator"
13. "What You Mean To Me"
14. "A Pipe Dream And A Promise" (feat. Monica Blaire & Allan Barnes)
15. "Paid Homage (R.I.P. J Dilla)"