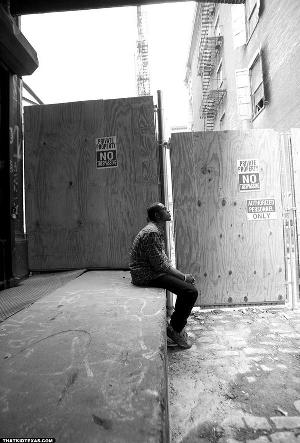 Fresh off the release of his Morrissey-quoting This Charming Mixtape, intriguing rapper/vocalist Theophilus London kicked off a nationwide tour last night with tres-cheezy 80s revivalists Futurecop. Mr. London will also trek through SXSW and WMC; I'll post those dates when venue information becomes available. In the meantime, you can download This Charming Mixtape from his MySpace page.
2/27: The Studio at Webster Hall, New York, NY
2/28: Zoobizzare Montreal, QC
3/01: Drake Hotel, Toronto, ON
3/02: Crofoot Ballroom, Pontiac, MI
3/03: Empty Bottle, Chicago, IL
3/06: Hi Dive, Denver, CO
3/07: Kilby Court, Salt Lake City, UT
3/09: Nectar Lounge, Seattle, WA
3/10: Biltmore, Vancouver, BC
3/11: Rotture, Portland, OR
3/12: Tonic, Reno, NV
3/13: Paradise Lounge, San Francisco, CA
3/14: Echoplex, Los Angeles, CA
3/16: Rhythm Room, Phoenix, AZ
3/20: Myopenbar, Austin, TX
3/21: Peckerheads, Austin, TX
3/21: Levi's/Fader Fort, Austin, TX
3/22: Hailey's, Denton, TX
3/24: 529, Atlanta, GA
3/29: DC9, Washington, DC
3/30: Sonar, Baltimore, MD
3/31: M Room, Philadelphia, PA
2/26-3/31: w/Futurecop!
3/20-3/21: SXSW
Theophilus London, "Cold Pillow"
Photo by Texas.