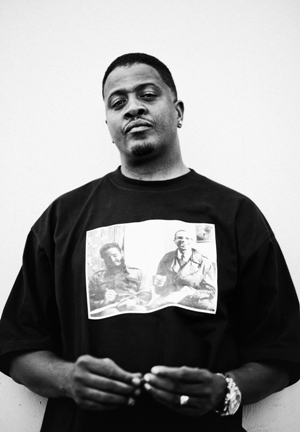 Chali 2na has finally completed his debut solo album Fish Outta Water. How long did it take him? He started work on the project before Jurassic 5 broke up in 2007. A "street album" promoting it, Fish Market dropped way back in 2004. In fairness, however, it took the baritone rapper some time to switch labels from Interscope (which held an option on him as a member of J5) to Decon, the onetime multimedia company which has lately made hay out of working with Los Angeles backpack stars (Dilated Peoples, Evidence, Aceyalone).
Decon Records will issue Fish Outta Water on June 23. Guests include Talib Kweli, Anthony Hamilton, indie soul songstress Choklate, Elzhi, Beenie Man and Damian & Stephen Marley. After the jump, check out the press release, track listing and an MP3, "Lock Shit Down," with Kweli. (June 3 update: The release date has been changed to July 7.)
Chali's diverse tastes range from the blues he was raised on to the political gangsta' rap he loved, to the graffiti art he sprayed as a teenager—and they all flow from this album. A powerful and deeply personal body of work, Fish Outta Water is quite simply a life's worth of songs in the making. Boasting production from the likes of Jake One, Scott Storch, and Cut Chemist and collaborations with Damian Marley, Stephen Marley, Beenie Man, Anthony Hamilton, and Talib Kweli, the album feels like a new beginning of sorts for the artist who has successfully melded the bass-heavy bravado with his own life's story, and in doing so, creates art that's not only superb, it's important.

Chali, with his unmistakable, beloved baritone has firmly established himself as one of the most distinctive personalities, not just in hip-hop, but music in general. Only a select few can say they've rocked microphones in front of thousands at a sold-out arena in Tokyo with Jurassic 5, spit rhymes at Lollapalooza, appeared on two Van's Warped Tours and been backed by the Latin-tinged rock of Ozomatli. Chali recently appeared on Galactic's critically acclaimed release From The Corner To The Block and performed with the band for special sets at Bonnaroo and Jazz Fest.

Notorious for using his music as a platform to present social and political issues, Chali has established himself as an artist of substance. And like a true artist he doesn't allow himself to be pigeonholed into one genre or medium. He founded the activist salsa funk band Ozomatli, and even ventured into voiceover work which led him to a role in film playing the voice of Pup in the animated picture, Night Before Christmas.

With the varied musical, socio-cultural and geographical influences that have shaped him, Chali 2na's debut release offers not only new collaborations but also a melting pot of provocative lyrics and true artistry.
Here's the track listing:
1. "Get Focused"
2. "International" (feat. Beenie Man)
3. "So Crazy"
4. "Lock Shit Down" (feat. Talib Kweli)
5. "Don't Stop" (feat. Anthony Hamilton)
6. "Keep Goin'" (feat. Choklate)
7. "Comin' Thru"
8. "F.O.W."
9. "Love's Gonna Getcha"
10. "Righteous Way"
11. "When Will I See You Again" (feat. Elzhi)
12. "Guns Up" (feat. Damian Marley & Stephen Marley)
13. "Graff Time"
14. "Controlled Coincidence" (feat. Kanetic Source)
15. "4 Be Be" (feat. Ming Xia)
"Fish Outta Water" (feat. Talib Kweli)
Photo by Nabil Elderkin.