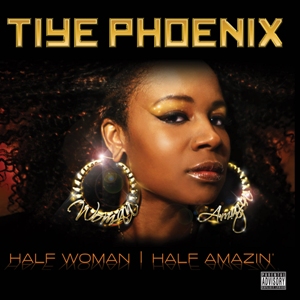 On May 26, Tiye Phoenix will release her solo debut Half Woman Half Amazin' on Babygrande. She first came to prominence two years ago as the newest member of Polyrhythm Addicts on their comeback album Break Glass. However, her presence was overshadowed by questions over the female rapper she replaced, Apani B. Fly Emcee. This time, she gets the spotlight all to herself.
Producers on Half Woman Half Amazin' include DJ Spinna, DJ Scratch, Jazzy Jeff, Da Beatminerz and Apathy. Guest shots come from Chip Fu of the Foundation the Fu-Schnickens, Dynas and Phonte Coleman.
Here's a bit of the press release:
Classically trained in Piano since she was seven years-old, Tiye Phoenix has always been musically, creatively and artistically inclined. In the late 90's, Tiye was a part of S.O.U.L. Food Symphony, a DC based group that performed with artists like, Nas, Gill Scot Heron & more. During the "Golden Years" of hip-hop, Tiye was a member of the Rawkus family, collaborating with Mos Def, Talib Kweli, Hi-Tek & many more. Tiye also worked with fellow Rawkus artists DJ Spinna, Shabaam Sahdeeq and Mr. Complex as part of the super group The Polyrhythm Addicts.

Striking a nuanced balance between sensuality and sophistication, Tiye's womanhood is on full display with this mature offering. Her solo debut "Half Woman Half Amazin'" is an exploration of the duality within… and as a female producer, MC, singer and songwriter in hip-hop, she is uniquely poised to express this phenomenon.

"Tiye Phoenix is the complete package. When it comes to female MC's she is unrivaled. There are a few other relevant females right now but absolutely none are as refined as Tiye Phoenix. As a musician, songwriter, performer and as a woman she is the one," says Chuck Wilson, Babygrande's CEO.
Here's the track listing:
1. "TIYEtanium"
2. "The Award"
3. "Stop Right There"
4. "Just Go!" (feat. Dynas)
5. "Master Plan"
6. "The Bored Room"
7. "Half Woman Half Amazin"
8. "Bless Me"
9. "Revolving Door"
10. "Killin Everybody"
11. "Go Even Harder" (feat. Chip Fu)
12. "Shinin Star"
13. "Too Late for Us" (feat. Phonte)