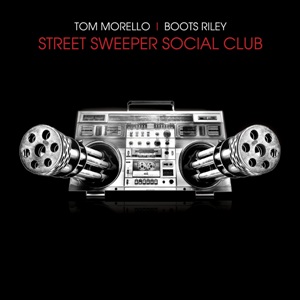 As previously announced, Boots Riley and Tom Morello are set to release their years-in-the-making collaboration. Set for release on June 16 via Warner Group's Independent Label Group (the same distributor that handles Rhymesayers' releases), Street Sweeper Social Club combines Boots' socialist satire with Morello's energy blasts. Stanton Moore, drummer for Galactic, lends an assist on the duo's hard funk-rock.
"It's revolutionary party jams," says Morello in a press release. "It's got huge steamroller riffs combined with depth, charge, funk, while Boots unloads clip after clip of incendiary rhymes rich with satire and venom."
"This is a time when the working class is being fleeced left and right," adds Riley. "More families will be homeless and more people will be jobless. They'll need something to listen to on their ipods while storming Wall Street."
The duo kicked off its tour opening for Nine Inch Nails & Jane's Addiction earlier this month. The itinerary runs until the end of June.
Here's the track listing:
1. "Fight! Smash! Win!"
2. "100 Little Curses"
3. "The Oath"
4. "The Squeeze"
5. "Clap For The Killers"
6. "Somewhere In The World It's Midnight"
7. "Shock You Again"
8. "Good Morning, Mrs. Smith"
9. "Megablast"
10. "Promenade"
11. "Nobody Moves (Til We Say Go)"
And here's the itinerary:
5/08: Cruzan Amphitheatre, West Palm Beach, FL
5/09: Ford Amphitheatre, Tampa, FL
5/10: Lakewood Amphitheatre, Atlanta, GA
5/14: Journal Pavilion, Albuquerque, NM
5/15: Cricket Wireless Pavilion, Phoenix, AZ
5/16: Cricket Wireless Amphitheater, Chula Vista, CA
5/18: The Pearl, Las Vegas, NV
5/20: Verizon Wireless Amphitheater, Irvine, CA
5/22: Shoreline Amphitheatre, Mountain View, CA
5/26: Fiddler's Green Amphitheatre, Englewood, CO
5/27: Starlight Theatre, Kansas City, MO
5/29: Charter One Pavilion, Chicago, IL
5/30: Verizon Wireless Music Center, Noblesville, IN
5/31: DTE Energy Music Theatre, Clarkston, MI
6/02: Molson Amphitheatre, Toronto, ON
6/03: Darien Lake Amphitheatre, Darien Lake, NY
6/05: Tweeter Center At The Waterfront, Camden, NJ
6/06: PNC Bank Arts Center, Holmdel, NJ
6/07: Jones Beach Music Theater, Wantagh, NY
6/09: Merriweather Post Pavilion, Columbia, MD
6/10: Post-Gazette Pavilion, Burgettstown, PA
6/12: Verizon Wireless Amphitheatre, Charlotte, NC
5/08-6/12: w/Nine Inch Nails
5/08-5/29, 5/31-6/12: w/Jane's Addiction