Jason "Nosaj Thing" Chung is the latest to emerge from the Low End Theory beat camp, a weekly club night that has given name to a wave of talented Los Angeles producers – Flying Lotus, Daedelus, the Glitch Mob, Daddy Kev, the Gaslamp Killer, D-Styles, Ras G, Take and others. (Sorry, but I don't fuck with "lazer bass" or "wonky.") First known as a local DJ, Nosaj Thing broke out in 2008 with impressive remixes of Health's "Tabloid Sores" track (included on the experimental rock band's Disco compilation) and Flying Lotus's "Camel Sores" (featured on the Los Angeles 2×3 EP). Meanwhile, Kid Cudi used his "Aquarius" track (first issued on Nosaj Thing's 2006 Views/Octopus EP) for "Man on the Moon," a standout track on the popular A Kid Named Cudi mixtape.
With only a handful of circulating tracks, anticipation has nevertheless built for Nosaj Thing's debut long-player. Released by Alpha Pup Records on CD last Tuesday, June 9 (with a digital pre-release arriving May 26), the hype surrounding Drift is the inevitable result of a scene gathering media and fan attention. Thankfully, Drift isn't a summary of beat music clichés, but a haunting suite of songs that resembles Romantic classicism, minimalism/new music theory and old-school "electronica" techniques pioneered by Global Goon and Aphex Twin. (In the interview below, Nosaj reveals that he's a fan of 18th century composers Frederic Chopin and Erik Satie. And one of Drift's tracks is titled "1685/Bach," a nod to the year Johann Sebastian Bach was born.) Marrying his esoteric melodies to subtly dusted beats, Nosaj Thing creates an instrumental journey that leaves an indelible impression.
At 22 years old, the mild-mannered Nosaj Thing is suitably unassuming about the meaning of his work and of the attention that helped Drift peak at number 5 on the iTunes Electronic Albums chart on June 4. (As of this writing it ranks at number 54.) "It was very therapeutic for me to make," he says without elaborating further. "I just wanted to experiment and tell a story." His neutral, music-for-music's-sake stance hints that Drift is a grand instrumental drama best heard than read.
Plug One: My first question is more of an observation. Listening to your album, it sounded much more techno than I thought it would. So I'm wondering how you hear your record. Do you hear it as a beat record in the same vein as Flying Lotus, or do you see it as something different?
Nosaj Thing: Of course, the backbone is hip hop. But I see it as an electronic record, too. Not so much techno, because I consider techno a dance genre. But just electronic music like, you know, electronica.
Plug One: Do you have any particular reference points in terms of people that inspired you to move in this direction?
Nosaj Thing: Yes, a few classical composers like [Frederic] Chopin and [Erik] Satie; artists like Boards of Canada that are on Warp; and, overall, the guys from Low End Theory. Our goal is to keep the music progressive.
Plug One: So where does the hip hop come in?
Nosaj Thing: When I first got into music, it was hip hop. My parents always played the Beatles, Bob Dylan, Simon & Garfunkel and stuff like that. When I was in the third grade, I was in the YMCA after-school program, and the bus driver that picked us up from school to the YMCA always had on the local hip hop station, Power 106. That was when all the Beat Junkies were DJs on the air, and they did a lot of trick mixing, beat juggling and all that stuff. I fell in love with that and listened to that every day. Even when I got home, I used to record them for mixtapes. On Fridays, they had electro night, and I used to record those tapes. I never knew how they did all that stuff with turntables – of course, I was at a very young age, you know?
When I was about 12 or 13 years old, my best friend had a turntable set up, and that's when I started spinning. I used to go over there every day after school. All throughout, I was listening to mainstream radio.
Plug One: What pushed you in the direction of music that's more experimental than mainstream radio?
Nosaj Thing: When I was in high school, I was more into indie-rock. Early high school, like freshman year, I got into the rave scene, and I was really into drum-and-bass and house. I was interested in electronic music more and more.
When I first got into production – it was around the same age, when I was 13 – my dream was to do beats like Dr. Dre, the Neptunes and Timbaland. But then I got more into noise, punk and electronic music. So I wanted to fuse all of those influences together. That's what I kept working on.
Plug One: So the music that you make is a blending of all of these things.
Nosaj Thing: Yeah.
Plug One: So does the album have a particular theme, or is it just an example of how you make music?
Nosaj Thing: To me, this record is a bit more cinematic. It was very therapeutic for me to make. Each track wasn't planned or anything. Whenever I felt in the mood to make something or write something, it just came naturally. It's a body of work – the oldest song that I started was in '06. And I just compiled all the songs.
You know, I do have more beat-heavy stuff. But I wanted to make a record that told a story instrumentally, and if it was just hard beats and hard tunes, then I couldn't tell that story. It's [those beats are] cool for playing live and for DJ'ing, but since there are no vocals [on Drift] I just wanted to experiment more and tell a story.
Plug One: What's the story?
Nosaj Thing: Well, not like a specific story, but it takes you on a ride, you know what I mean? Like, when I'm DJ'ing, I just want to pace myself and tell a story musically. There isn't a specific story I had in mind.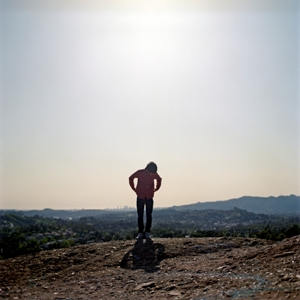 Plug One: Do you have a day job?
Nosaj Thing: Not anymore. I used to work at an audio company called M-Audio. I got laid off in January. I used to do technical support and help people set up their studios, and follow up with email.
The day I got laid off, I got a proper booking agent. I freaked out, of course, but I just tried to stay focus, make the most of it, and tried to sustain myself making music and shows.
Plug One: Have you been successful so far?
Nosaj Thing: Yeah, it's been really busy getting ready for Drift. Besides shows, and doing side projects like music for animation, I've been able to sustain a bit. But we'll see how it goes.
Plug One: Do you make music for TV animation, or films?
Nosaj Thing: I've been working with this design firm called Nanospore, and another group called SDF1, and they do animation and storyboard services for different clients like shoe companies and schools, just various companies that need a video for something. For example, I'm working on one spore [with Nanospore] for UCLA, doing a health awareness-type animation video. I did one for a web shoe commercial. Stuff like that.
Plug One: So how did you become a part of Low End Theory?
Nosaj Thing: I was really into scratch music and DJ'ing, and I used to follow D-Styles' message board. I noticed one day that someone posted about an event called Shock Value. It was this one-off event, and the lineup was D-Styles, Daddy Kev, edIT and Daedelus. It also said that whoever came out with their gear and records first would get to open up for the night. This was in 2005.
So I got my gear and got there early, and they let me open. It went really well. After that, I continued to check the message board every week. I noticed that Daddy Kev started Low End Theory. From there on, I emailed him and went as much as I could. I saw Low End Theory grow from just a few people a week to a few hundred today.
Plug One: So it's been a long journey for you. I know that you've been around, but I didn't know that you've been waiting in the wings for so long.
Nosaj Thing: When I got into production [when I was 13 or 14 years old], I had an older friend that was into making house music, and he gave me this software called Reason. And from there I kept at it and made beats and songs. I started playing out [at parties] in 2004, and I've just kept at it. It was the only thing that made me happy.
Plug One: How did you connect with Kid Cudi?
Nosaj Thing: He hit me up on MySpace [with a message] in early 2008. This was before "Day N Nite" came out, so I didn't know who he was. And his message was that he was working on a mixtape, and he really liked the song ["Aquarius"], and he wanted to call it the title track of the mixtape. [The track, "Man on the Moon," appeared on the mixtape A Kid Named Cudi.] For me, I was 100 percent down with anything to get my music out there. I was into the guys he was associated with [Fool's Gold Records] as well. So I sent him the track and he used it for the mixtape.
Plug One: Did you get paid?
Nosaj Thing: No. This was a free mixtape. It was a promo thing.
Plug One: Do you know if he plans to use that track for his album?
Nosaj Thing: I don't think so. But I've spoken to him a few times, and sent him some more beats. I hope to work with him, I guess.
Plug One: Have you gotten any work out of that? Have other rappers reached out to you as a result of "Man on the Moon"?
Nosaj Thing: No, not really. I just work with a few MCs from L.A. like Nocando and Busdriver.
Plug One: I just read the L.A. Weekly article on you, and one of the things you said was that you're more interested in doing instrumental music than working with MCs. It's funny, because I interviewed Flying Lotus last year, and he said the same thing. Then, a month or two after the interview, I saw him work with a ton of MCs.
Nosaj Thing: Well, I think he [L.A. Weekly's Chris Martins] misquoted me. I told him that I prefer working on my own projects and keeping it instrumental, but of course I always enjoy working with MCs. That's what I meant. For my releases specifically, I want to keep it instrumental. But I'm always down to work with MCs for their projects.
Plug One: What are your future plans?
Nosaj Thing: Right now I'm working on a live show that's more involved. I want to use video and synched visuals for the show. And from here on, just more music.
Discography:
Views/Octopus EP (2006)
Drift (2009)
www.nosajthing.com
www.myspace.com/nosajthing
Track light photo by Patrick Judabong. Mountain photo by Mikey Tnasuttimonkol.