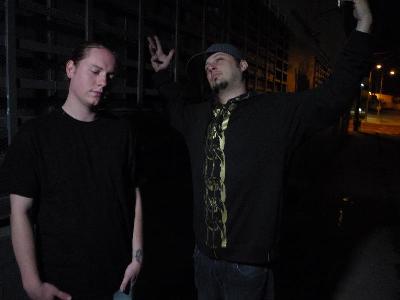 Indie rapper Awol One's Owl Hours features some surprising collaborations. First, it's executive produced by Xzibit, who hasn't hung around L.A.'s indie rap scene since he signed with Dr. Dre for Restless. X to the Z brings in Tash and E-Swift from Tha Liks for guest shots; others include Aesop Rock, Myka 9 and Sunspot Jonz. Factor, the Canadian producer who handled Awolrus' Only Death Can Kill You, creates the beats for Owl Hours.
Fake Four Inc. will release Owl Hours on July 21. Awol One is going on tour to support it; the itinerary and track listing are below.
Here's some press info:
Awol and Factor have been working together for some time. While touring through Canada a few years ago Awol met the Producer/DJ named Factor and began building a friendship. Awol and Factor even rocked to packed crowds of teenybopper indie rock fans when they toured with Montreal band Islands in 2008. Through the years Awol continues to gain respect from artists and fans of all genres and never fails to keep his art and music completely real and original.

Over his nearly 15 year career Awol One has built a strong grassroots fan base from touring extensively throughout the US, Canada and Europe by himself and as a member of the legendary Shape Shifters crew. He has collaborated on tracks with very high profile hip hop artists such as KRS one, Kool Keith and Atmosphere just to name a few.

AWOL ONE, born Anthony Martin in East L.A. California, was born like any other kid…in a manger. His father, Portuguese, and his mother, Irish, grew up poor on the east coast and moved to California where they met and conceived a little walrus. The walrus grew to love music and knew that he would do it forever, now in his early 30's he feels that he has recorded his best album yet.
Here's the track listing:
1. "Glamorous Drunk"
2. "Celebrate"
3. "Official"
4. "Stand Up" (feat. Aesop Rock & Myka 9)
5. "Up Downtown"
6. "Waste the Wine" (feat. Tash & E-Swift from Tha Liks)
7. "Back Then" (feat. Gregory Pepper and Ceschi)
8. "Destination"
9. "Darkness" (feat. Sunspot Jonz, Gel Roc & Jizzm)
10. "Brains Out" (feat. Xzibit)
11. "Sunset Sandwich"
And here are the current tour dates:
7/07: Audio Canvas, Los Angeles, CA
7/18: Purple Haze Music Festival, San Bernadino, CA
7/19: Knitting Factory, Hollywood, CA
7/21: Nocturnum, Eureka, CA
7/23: Rotture, Portland, OR
7/24: LoFi, Seattle, WA
7/26: The Palace, Missoula, MT
7/27: Uprok, Salt Lake City, UT (afternoon)
7/27: Urban Lounge, Salt Lake City, UT
7/28: Hodi's Half Note, Ft. Collins, CO
7/29: Club Fusion, Santa Fe, NM
7/30: Blunt Club, Tempe, AZ
7/19: w/The Shapeshifters
"Celebrate"