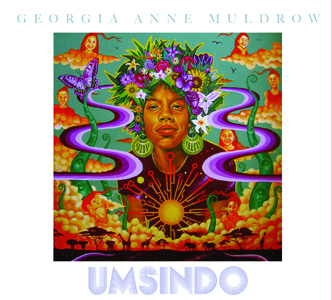 On July 28, future soul princess Georgia Anne Muldrow returns with Umsindo. She just released the Ms. One compilation in May, but this one is a solo effort, her first since 2006's Olesi: Fragments of an Earth. It arrives via Someothaship/E1 Music (formerly known as Koch). And yes, it includes the original version of the "Roses" track featured on Mos Def's excellent The Ecstatic.
Here's the bio info:
UMSINDO (which means sound in Zulu) is Muldrow's second full length album and tells this story with subject matter ranging from world politics to the metaphysical sciences-with laserlike synthwork to match. Muldrow, who birthed the new millennium hip-hop soul movement, is the producer/singer/songwriter phenomenon who keeps on giving.

Umsindo is dedicated to Muldrow's African heritage with themes of creation and calls to wake up the consciousness to all who hear it. This Afro-centric gem of an album speaks to the Zulu warriors whose lineage goes back before the planet, where the power of sound is paramount.
Here's the track listing:
1. "Jina Langu Ni Afrika (my name is afrika)"
2. "John De Conqueror (ona moove)"
3. "Seminole Unity Chant"
4. "Uhuru Flight"
5. "Daisies"
6. "Okra"
7. "Sermonette"
8. "Fonky Day"
9. "Generation/ you got it"
10. "Nsamanfo"
11. "Caracas"
12. "Slice It"
13. "So Far"
14. "Roses"
15. "Idlozi"
16. "Slice It (Reprise)"
17. "Kids"
18. "West Coast Prayer"
19. "E.S.P."
20. "Beya"
21. "I.Q."
22. "De Wiz"
23. "Roses Pt. 2"
24. "Diaspora"