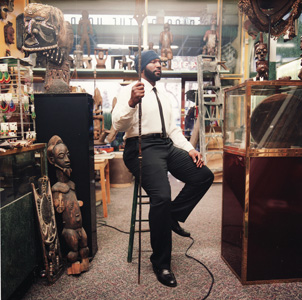 Shafiq Husayn's Shafiq En' A-Free-Ka is the first of several upcoming solo albums from the Sa-Ra Creative Partners camp. It drops October 6 on Plug Research. Guests include Bilal, Count Bass D, Jimetta Rose and many others.
The first single, "Lil' Girl" has been out for a minute. However, I'm not posting it here because it's being sold on iTunes. So check the track listing below, and then buy some music for a goddamn change.
But first, the all-important press release snippet:
Shafiq En' A-Free-Ka is the debut album from Shafiq Husayn. The record is 17 tracks of innovative music that defies any singular classification. "The U.N. Plan" sounds like a call to arms with Shafiq roll-calling over uncomprimising drums. "Major Heavy" takes the listener to the clouds with a hypnotizing chorus by Count Bass D and lead vocals from LA 's Sonny Coates. "Lil Girl" finds Shafiq crafting a lo-fi, head-nod inducing beat that is perfectly matched with UK newcomer Fatima's vocals. Shafiq enlists the help of more than 30 musicians and vocalists on the album, from bass phenomenon Steve "Thundercat" Bruner, the amazing Bilal, Om'Mas Keith of Sa-Ra Creative Partners, the classically trained multi-instrumentalist Miguel Atwood-Ferguson and many others.

Shafiq En' A-Free-Ka is an experience in a way very few modern albums are. The title itself is meaningful. In ancient Kemet, now known as Egypt, Ka signifies the soul or the mind, so this album represents Shafiq Husayn in a state of complete mental and spiritual freedom. Genres are melded, barriers are broken and trails are blazed through Shafiq's masterful direction of music equipment, live instrumentation and vocalists.
Here's the track listing:
1. "Intro/Electra"
2. "Nirvana"
3. "The U.N. Plan"
4. "Cheeba" (feat. Bilal)
5. "Lil' Girl" (feat. Fatima)
6. "Lost & Found" (feat. Jimetta Rose & Bilal)
7. "Dust & Kisses" (feat. Noni Limar)
8. "No Moor"
9. "All Dead"
10. "Major Heavy" (feat. Sonny Coates & Count Bass D)
11. "Evil Man"
12. "Changes" (feat. Om'Mas Keith & Stephen "Thundercat" Bruner)
13. "Love Still Hurts"
14. "Le' Star" (feat. Rozzi Daime, Noni Limar & Nia Andrews)
15. "Egypt" (feat. Jessie West & Kahil Sadiq)
16. "The Odd Is C"
17. "Rebel Soldier"