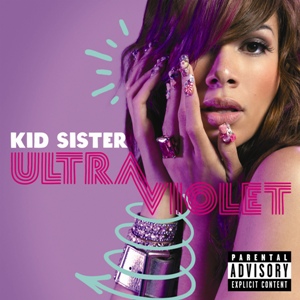 On November 17, Kid Sister's long-delayed debut Ultraviolet will finally come out via Downtown Records. She'll celebrate with several concerts in major cities across the U.S.
Close observers of this blog (if there are any) will snicker that I often use the phrase "long-delayed." But Ultraviolet may truly qualify. It was supposed to come out in the fall of 2008 as Dream Date. Since then, the title has been changed; the track listing has shuffled several times (early versions include a collaboration with the Cool Kids); and the release date has been changed many times this year alone, from March, to October 6 and finally (maybe) November 17. Meanwhile, the white-hot club rap movement that once seemed destined for mainstream consumption, with Kid Sister at the forefront, has not only been co-opted by makeup-wearing, Hot Topic-clad rock kids (see 3!Oh!3, et cetera) but has also settled into a comfortable, if slightly confining sub-genre. (Whatever happened to Spank Rock?)
What does that mean for Kid Sister and Ultraviolet? Who knows. Even though she's a little poppy for my taste, I respect that she works with underground dance producers. And in world where male rappers still think that women don't make good MCs because they're too "soft" (Dude, if women can become soldiers and work in heavy industries, then they're tough enough to rap!), it's nice to see Kid Sister  rock the mic.
Here's a bit of info from the press release:
The much lauded superstar in the making, Kid Sister, is releasing her long-anticipated debut album, Ultraviolet, on October 6th on Downtown Records. When Kid Sister (aka Melisa Young) turned in her album, originally titled Dream Date, in September of 2008, she pulled a daring move and asked Downtown to hold off on releasing it.

"There were a few things about the album that irked me…the album wasn't cohesive", Young told Pitchfork in an interview earlier this year. Downtown allowed her some time to make the album what she wanted, and she went back to work with executive producer A-Trak and the rest of the creative team behind Fool's Gold. The result is the stunning Ultraviolet. The album is a landmark, merging electronic music and club rap in ways that have never been done before. The album includes production by some of the most sought after, cutting edge producers working today (including A-Trak, Rusko, Steve Angello & Sebastian Ingrosso, Sinden, XXXChange, Brian Kennedy, Herve, Yuksek and DJ Gant-Man) who all seem to have recognized the talent and star power that also motivated Kanye West to collaborate with her on 2007's Pro Nails single, helping in part to create the deafening buzz that surrounds her now. The album is 12 songs deep, with each track being mixed seamlessly into the next, creating a continuous mix of songs that contain an innovative approach to their perfectly honed pop sensibilities. The final result of Kid Sister's signature effervescent rapping style with these innovative producers will cement her debut release as one of the most talked about this year.
Here's the track listing:
1. "Right Hand Hi"
2. "Life On TV"
3. "Big N Bad"
4. "Step" (feat. Estelle)
5. "Let Me Bang 2009"
6. "Pro Nails" (feat. Kanye West)
7. "Daydreaming" (feat. Cee-Lo)
8. "Switch Board" (feat. DJ Gant-Man)
9. "54321"
10. "Get Fresh"
11. "You Ain't Really Down"
12. "Control"
Here are the tour dates:
10/19: Venue, Vancouver, BC
10/20: Neumo's, Seattle, WA
10/21: Holocene, Portland, OR
10/22: Rickshaw Stop, San Francisco, CA
10/23: Detroit Bar, Costa Mesa, CA
10/24: Echoplex, Los Angeles, CA
11/04: W Hotel, Salt Lake City, UT
11/06: Jesse Auditorium, Columbia, MO
11/08: Waterloo Park, Austin, TX
11/21: Palladium Ballroom, Dallas, TX
11/25: House of Blues, Chicago, IL
11/27: Webster Hall, New York, NY
10/19-10/21, 10/23-10/24, 11/25-11/27: w/Flosstradamus
11/08: Fun Fun Fun Fest