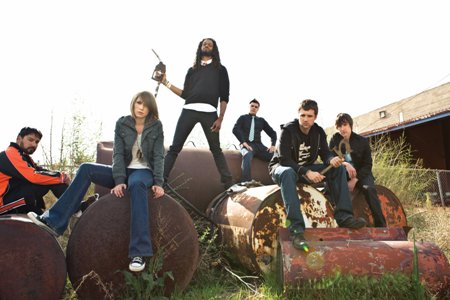 "Handlebars" group Flobots is working on a new album tentatively titled Survival Story with longtime Beastie Boys producer Mario Caldato, Jr. It should drop in 2010 on Universal Republic. The Colorado band is also in the midst of a late-season tour that wraps up next month.
Currently slated for an early 2010 release, the album is tentatively tiled Survival Story and guest artists include Tim McIlrath of Rise Against on the track "White Flag Warrior" and "Infatuation" with Matt Morris of Tennman Records. Other titles include "Airplane Mode", "The Effect", "By The Time You Get This message…", "Cracks in the Surface" and "Good Soldier". …

FLOBOTS lead MC Jonny 5 (aka Jamie Laurie), says "our new record has a few different themes, including trying to tell a story of survival through the story of Atlantis… but the major question is 'Who will turn the tide?'."

Jonny says "sustainability is another one of the big subjects on the new album – climate change is getting more and more attention and will continue to do in the weeks ahead because of the Copenhagen Climate Change Treaty in December. He adds, "Fight With Tools was a rallying cry, but I think we're moving away from slogans and toward stories. This album is a lot more personal, focusing on the contradictions in our own lives. There's a lot of negative energy in the news right now – Darfur, Ft. Hood, Afghanistan. – we need stories that give us hope."

"The world is an island now, "Jonny continues, "we're up against limited resources, and there's nowhere to hide. More than ever we have to learn to live sustainably, and that means addressing things like violence, homelessness and wastefulness on a local level and trying to work together on a global level. We have no choice but to care for each other."

Viola player Mackenzie Roberts says of FLOBOTS new music, "'I was extremely proud of [Fight With Tools], but I feel that this one really represents who we are". Vocalist Brer Rabbit adds, "this record is really a breakthrough for us all as a collective. We really pushed ourselves, and I know I personally couldn't be happier with the growth we're showing, and the sincerity of our voice".

Jonny 5 sums it up with, "there may be people wondering how we can possibly make music on the heals of "Handlebars"… but our new album is the shit."
Here are the tour dates:
11/12: El Premier Nightclub, Las Vegas, NV
11/13: The Clubhouse, Tempe, AZ
11/14: Sports Arena, San Diego, CA
11/16: The Starline, Fresno, CA
11/17: Slim's, San Francisco, CA
11/18: Narducci's Café, Bakersfield, CA
11/19: Downtown Brew, San Luis Obispo, CA
11/20: Velvet Jones, Santa Barbara, CA
11/23: Club Sound, Salt Lake City, UT
11/24: Sandbar Vail, Vail, CO
11/25: three20south, Breckenridge, CO
11/27: Pops, Sauget, IL
11/28: Lincoln Hall, Chicago, IL
11/29: The Basement, Columbus, OH
11/30: Grog Shop, Cleveland Heights, OH
12/02: Harper's Ferry, Allston, MA
12/03: Brooklyn Bowl, Brooklyn, NY
12/04: The Note, West Chester, PA
12/05: Recher Theatre, Towson, MD
12/06: Canal Club, Richmond, VA
12/08: Southgate House, Newport, KY
12/09: The Waiting Room, Omaha, NE
12/10: Aggie Theatre, Fort Collins, CO
12/17: Fox Theatre, Boulder, CO
12/18: Fox Theatre, Boulder, CO
Photo by Jake Trott.