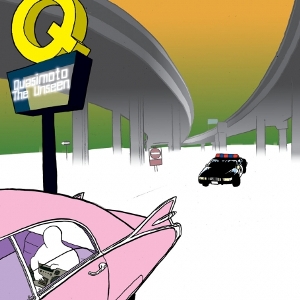 17. Quasimoto, The Unseen
Stones Throw
Released June 13, 2000
When Quasimoto first appeared on Peanut Butter Wolf's 1998 single, "Styles, Crews, Flows, Beats," few realized that the helium-voiced instigator who promised to "slap your bitch up like a pimp" was a guise for rising producer Madlib. He makes the connection plain during a track on The Unseen, "Boom Music" when he slows down Quasimoto's voice to reveal its true source. But it did little to lessen the impact of this collection of demos he recorded during the 90s – their dusty, bop-inflected sound were a clear product of the acid jazz era – and their hazy, psychedelic splendor.
The Unseen made hip hop fans recognize Madlib as a major artist, a Lee Perry for the indie-rap generation. A listener could get lost in its tunes, where samples from Melvin van Peebles ("Come On Feet") and the Last Poets ("Low Class Conspiracy") took center stage like a turntable being cued during a smoke session. Weed consumption played a central role, but so did Madlib's love for crate-digging ("Return of the Loop Digga," where he disses UK hip-house producer Simon Harris) and MC'ing ("Microphone Mathematics"). These were all themes he would explore through dozens of recordings as he became one of the 00s most prolific producers. But rarely would they make for a riddle as engrossing as The Unseen.