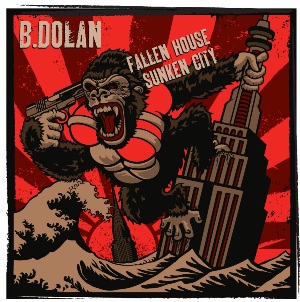 B. Dolan, Fallen House, Sunken City
Strange Famous Records
"I braced against the railing and looked into the sun like I was waiting for someone to burn a picture in my mind," B. Dolan intones on "Leaving New York." Having spent years as an understudy to Sage Francis, you'd think that Dolan would sound like that left-wing iconoclast, but on this track he sounds more like Sole, minus the lyrical jump-cuts and torrential run-on sentences. Dolan can't match either's technique, but he has a growling fortitude that borders on anger, and a poet's knack for witty lines. "I'm cashing checks against the national debt/I can't afford to live fraudulent," he complains on "Economy of Words (Bail It Out)." Much like Francis, Dolan came to hip-hop via the spoken-word medium, albeit without the freestyle battle scars that made him a natural rap artist. There's still some stiffness in Dolan's delivery, and seems to be trying out other MCs styles, from the aforementioned Sole to Rob Sonic (on "Earthmovers"). Overall, however, Fallen House, Sunken City is a more successful attempt at agit-hop than the undigested spoken-word routines of Dolan's debut, 2007's The Failure. Considerable credit should be given to producer Alias, who flips some inspired fusion funk beats. The veteran beat maker sometimes outshines Dolan, but when the two blend seamlessly on the brutish and tragic Marvin Gaye tribute "Marvin," their sparks burst into glorious flames.