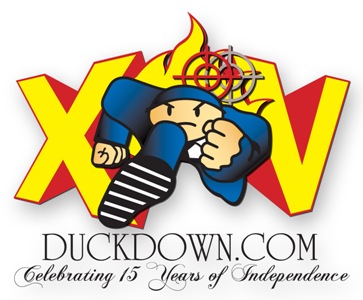 This essay on Duck Down Records' 15th anniversary was posted April 9 on the Rhapsody Music Stuff Place blog and its new Rhapsody Hip-Hop Blog. I have a weekly column called Rap is Not Pop.
————————————–
Rap is Not Pop: Why Duck Down Matters
Duck Down Records, which celebrates its 15th anniversary this year, may be the last of the great New York throwbacks. Its flagship group, Boot Camp Clik, came of age during the "Stakes Is High" era of hip-hop, those years before the Notorious B.I.G.'s Life After Death and Diddy's No Way Out introduced a set of conspicuously materialistic values that changed the culture forever. (Some grumpy old heads would argue that they "killed" hip-hop.) Shortly after came the underground scene's rise and fall; a shift in the universe from the Rotten Apple to the Dirty South; and a current split between D-boy/street values and alternative/pop dreams.
Every independent rap label has struggled in recent years, and few from that halcyon '90s period have survived. (Stones Throw is a notable exception; more on them later.) For Boot Camp Clik, the course has been particularly torturous. Being known for street rap classics such as Black Moon's Enta Da Stage and Smif-N-Wessun's Dah Shinin' can serve as a unique kind of weight; it's what fans love and expect from them, even if that era of bleedy-eyed rhymes and casual lyrical violence has passed. But Duck Down has managed to satiate its hardcore following and look forward to the future.
That feat took some maneuvering. Cofounders Dru Ha and Buckshot landed a distribution deal with Priority Records only after escaping a litigious relationship with Nervous Records, the label behind Enta Da Stage and Dah Shinin'. Originally designed as a next-to-blow label, it found early Billboard chart success with gems like Heltah Skeltah's Nocturnal, Originoo Gunn Clappaz' Da Storm and the Boot Camp Clik group album For the People. But as the "jiggy" sound took over in the late '90s, destroying any chance of underground-to-mainstream growth, Duck Down seemed unable to adjust creatively.
Then again, Boot Camp Clik have often appeared slightly out of place. During their mid-'90s heyday, they seemed more smoked-out and insular than street rap contemporaries such as Wu-Tang Clan, Mobb Deep, the Gang Starr Foundation and M.O.P. They spoke their own version of Ebonics (known as "Bootcampian"), used military iconography and fused reggae and dancehall with eerily slow dub vibes. The beats, mostly produced by Da Beatminerz in the early years, were more akin to Portishead trip-hop than Pete Rock soul. Today, they're even more isolated from the post-Diddy New York of Big Willies, urban pop stars and underground "true school" emcees. Don't get it twisted: this isn't a crew of backpackers, even though Buckshot rapped about his "knapsack" on Black Moon's "Who Got Da Props?". But even mainstream superthugs like N.O.R.E. and DMX were too limited for their vocabulary.
It wasn't until Buckshot teamed with producer 9th Wonder for a series of collaborations, beginning with 2005's Chemistry, that Duck Down found its stride. That same year, Sean Price (formerly known as Rock from Heltah Skeltah) dropped Monkey Barz; in his Rhapsody review, Sam Chennault wrote that it was "reminiscent of a time when emcees would rather whoop your ass in the alley than steal your girl at the club." Further Boot Camp Clik efforts like Buckshot's The Formula (again with 9th) and Survival Skills (this time with KRS-One) and Sean Price's Jesus Price Supastar were often heard as nostalgic evocations of '90s ethics, a time when street rap was a thing of mystery and noir, not simply a backdrop for money-grubbing D-boys to flaunt their latest club dances.
However, these new Boot Camp recordings were also an attempt to deal with their considerable legacy and build something new. Jesus Price Supastar may be defiantly old school, but it doesn't sound like those '90s classics. It's the classicist approach — sample-heavy beats and snarled, half-serious gun threats — that fools us into thinking that they're old instead of new.
Meanwhile, Duck Down Records is signing new artists, and not just extended fam like Pharoahe Monch (whose new album, W.A.R., is slated for this summer) or like-minded soldiers such as Torae and Marco Polo (authors of 2009's impressive Double Barrel). The appearance of Kidz in the Hall's The In Crowd — a new rap gen opus whose middle-class house-party sound has little in common with the grimy street poetry of the Clik — probably surprised a lot of fans, as did an announcement that the label was aligning with Northwest activists Blue Scholars for a distribution/marketing deal.
Duck Down Records is no longer a movement limited to a particular crew, but a symbol of independent-minded (if not necessarily indie) hip-hop. The amazing thing is that Dru Ha and Buckshot learned to take advantage of that.
There are few others. The aforementioned Stones Throw began as an outpost of Bay Area hip-hop, evolved into a clearinghouse for Madlib's catalog, and then grew into its best incarnation as a progressive imprint defined by a raw, visceral approach to funk, rap, electronics and other psychedelic sounds. The important thing is to sustain the brand while expanding its definition.
I'm not surprised that Stones Throw figured that out — Peanut Butter Wolf and co. always seemed like smart rap guys — but I didn't expect Duck Down to get there, too. After all, many others didn't, from Fondle 'Em and Rawkus to Definitive Jux (which barely survives as a catalog label). While the music industry emerges from the wreckage of the digital revolution, we need a few heroes to show us that renewal is possible.