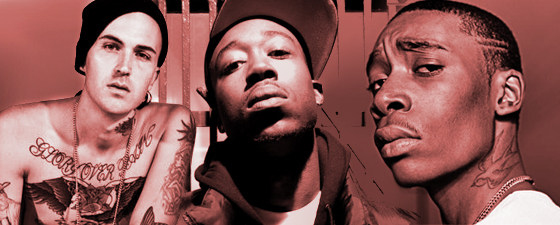 This essay on the latest crop of street rappers was posted August 10 on Rhapsody.com's Music Stuff Place blog. I wrote it for my Rap Is Not Pop column.
I freely admit that I don't specialize in breaking new artists. I analyze finished products. So I don't have any personal stake in claiming that I was the first to write about Lil B or any other MC that the Internet-arati currently gags over. It's an honorable and necessary vocation, but it's just not my lane. I'm the tortoise, not the hare.
But as a potential counterpoint to the recent "new rap generation" represented by Drake, B.o.B., et cetera, whom I have written about quite a bit; this new wave of hipster thugs presents benefits and challenges. No matter how you excuse it away, or switch focus to an appreciation of formal technique (hence music critics' over-reliance on the greatness of "internal rhyme schemes" and vocal "casualness"), this group relies too much on tropes. Each one loudly professes his ability to hustle and sell drugs, even though it's farcical to think that any of them (with few exceptions) sold enough cocaine to attract serious scrutiny by law enforcement.
Unfortunately, street themes have become a crutch for rappers. They don't know how to rap about anything else that affirms their masculinity, and being a Man capable of dishing out physical punishment is crucial to gain acceptance from hip-hop fans. It's been that way for nearly twenty years. Concurrently, listeners no longer listen to hip-hop for rich content, because they've grown inured to these repetitive topics. Hence, the focus on form over substance, or "internal rhyme schemes" over what a rapper actually has to say. We seem to concede that rappers nowadays are saying nothing, even if this flies in the face of what hip-hop is supposed to be about.
However, that doesn't mean these new rappers are full of shit. In fact, their music is really interesting. I've obsessively listened to Lil B's "B.O.R. (Birth of Rap)" during the past several days as well as Wiz Khalifa's recent Deal Or No Deal. And Curren$y's Pilot Talk is one of my favorite albums this year. They have compelling stories to tell about being young, indulging in female flesh and weed smoke, and striving to overcome obstacles and establish a permanent legacy in this world.
I truly believe that the current wave — which, perhaps for promotional purposes, I pronounced was "blog rap's second wave" — is a necessary counterbalance. As much as I like Drake's work, and appreciate what B.o.B tried to do with The Adventures of Bobby Ray, I'm wary of their commercial bent and gleeful abuse of pop conventions. (Exhibit number one: B.o.B.'s effective but treacly "Airplanes.") At least the current wave's arsenal of familiar topical riffs are thoroughly rap-identified stereotypes.
I sympathize with alternative heads like Mychal Smith, who recently drew a rebuke from Talib Kweli for criticizing his Gucci Mane collaboration as "the demise of conscious rap," arguing that "it has become more important to adopt the look of rebellion without appropriating the accompanying mentality."
I've long hoped that the indie and conscious scenes that flourished in the late 90s would renew themselves. It hasn't happened. I've been working on an essay that presents some reasons as to why it didn't. Hopefully I can present it here in the next few days (or weeks).
But for now, let's just say that the heroes of the "independent as fuck" era have reached their 30s, and no longer bring the same level of avant-garde innovation to their work as they did ten years ago. And post-millennial acts like Little Brother and Tanya Morgan don't want to, as Anti-Pop Consortium once put it, disturb the equilibrium; they just want to create an indie network that supports their variations on established styles. Few current rap artists, young or old, have any interest in sustaining a radical anti-corporate, anti-commercial philosophy. (Shabazz Palaces, whom I mentioned in this piece, is a notable exception.)
That's fine. It's okay to be an entertainer and nothing else. However, please don't confuse my thoughts with faint praise. If I didn't find Lil B, Freddie Gibbs et al interesting from a musical and intellectual standpoint, then I wouldn't have re-posted this article.
—————————
Rap Is Not Pop: Blog Rap's Second Wave
Blog rap's second wave epitomizes hip-hop's scales of artistic justice. Just as complaints over the new rap generation's increasingly pop output have reached a fever pitch, a new crop rises that embraces the familiar codes of street life. What makes them different from the usual parade of thugs is their youth — descriptions of a hipster thug lifestyle abound — openness to new sounds and varied collaborators, and linguistic dexterity, an unexpected benefit of Lil Wayne's memorable 2007 mixtape run and its underlying theme that any fledging rapper, no matter how lame, can transform himself into a great emcee with hard work.
This isn't a definitive list, but just a small sample of a few artists burning the Internet. All of them have material on Rhapsody; other promising voices such as Atlanta rapper Pill (1140: The Overdose) and DaVinci (The Day the Turf Stood Still) were left out because they don't. Interestingly, nearly all of them are survivors of the major-label system, having signed development deals a few years ago and then summarily been dropped, only to attract renewed interest after converting Internet hustle into industry buzz. Only Shabazz Palaces doesn't fit among this group, but their excellent recordings were impossible to omit.
Big K.R.I.T.: This Mississippi upstart is one of the leaders of "country rap," a newfangled term for Dirty South rappers with linguistic chops. (This incarnation of "country rap" doesn't refer to C&W/rap crossover artists like Colt Ford and Cowboy Troy.) On his acclaimed mixtape, Big K.R.I.T. Wuz Here, he offers "Country Sh*t," an impassioned paean to the D-boy lifestyle and "candy car superstars." Surprisingly, however, his mixtapes on Rhapsody, See Me on Top and See Me on Top 2, date back to 2005. On them, he sounds more like a T.I. copycat than a hungry young purveyor of Mediafire files. Five years later, it appears that Big K.R.I.T. has grown into an artist to be reckoned with.
Freddie Gibbs: "This rap sh*t saved me dog," says Freddie Gibbs on "Rep 2 tha Fullest," a track from his new Str8 Killa EP. While most of blog rap's second wave gleefully appropriates street imagery, Gibbs really was a hustler, and he has a litany of charges for criminal offenses to prove it. Str8 Killa follows a doomed tenure on Interscope Records and two heavily traded 2009 mixtapes, The Miseducation of Freddie Gibbs and Midwestgangstaboxframecadillacmuzik. With features from UGK's Bun B, the Black Keys' Dan Auerbach and the Cool Kids' Chuck Inglish, Gibbs resurrects '90s mob music and G-funk — think underrated greats like Big Mike and 8Ball & MJG — and, much like the greats from that era, tries to deliver gangster raps with a conscience. "Absentee fathers and dope-fiend mamas got my hood turned out to the point where a n*gga wanna go and get paid," he rhymes on "National Anthem (F*ck the World)."
Lil B: Four years ago, Lil B was one-fourth of The Pack, the Berkeley high school kids behind the classic single "Vans." The group then watched the city of L.A. cop its skater-hop style, rename it "jerkin'," and patent it via innocuous jingles from New Boyz, Cali Swag District and others. After The Pack's poorly received debut, 2007's Based Boys, Lil B transformed the phrase "based" into "Based World," a full-fledged lifestyle. "You ain't in the game until you make 1000 songs/ And you dying for this rap 'cause it's the only thing you love," he rhymes on "B.O.R. (Birth of Rap)" from 2009's 6 Kiss, invoking overachievers like Soulja Boy Tell 'Em and Lil Wayne. As the "Based God," Lil B has made hundreds of songs and posited them on dozens of MySpace pages. On 6 Kiss, that philosophy leads him to vacillate between incandescent musings over trance loops ("I'm God") and boorish rants ("Pretty Bitch").
Shabazz Palaces: On most days, Ishmael "Butterfly" Butler leads what's left of Digable Planets on frequent reunion tours (Ladybug Mecca left the group last year). But Ish has another, more relevant project in Shabazz Palaces, a collective of Seattle musicians whose two 2009 EPs, Shabazz Palaces and Of Light, float ominous raps over dread bass dubstep and gunshot percussion. As Palaceer Lazaro, Ish dispenses with the playfulness of Digable Planets; he kicks "100 SPH" (Styles Per Hour) over "Gunbeat Falls," dissing "pop rappers looking cute" without imagination. With its renewal of roots reggae's anti-Babylon sentiments for today's post-millennial ghetto survivors, Shabazz Palaces could never be accused of that.
Wiz Khalifa: Warner Music Group seems to enjoy dropping and then re-signing its artists. The flashy, tattooed style of Pittsburgh rapper Wiz Khalifa, displayed on the 2006 indie album Show and Prove, earned him a deal with W.M.G.'s Warner Bros. division. Two years later, when Wiz's crazy rave-rap mashup "Say Yeah" (which samples Alice Deejay's "Better Off Alone") didn't propel him from blog glory to radio domination, the company dropped him. Undaunted, he recorded another indie album, 2009's Deal or No Deal, upping the ante with smoked-out floaters like "Friendly" (with like-minded stunner Curren$y). At the end of July, W.M.G.'s Atlantic Records signed Khalifa, inducing a case of a déjà  vu: nearly 10 years ago, W.M.G. dropped Wilco and subsequently re-signed them for their 2002 album, Yankee Hotel Foxtrot.
YelaWolf: Prominently tattooed Alabama rapper and skateboard enthusiast Yelawolf stuck out like a sore thumb when his tentative debut single for Columbia, "Kickin'," hit the net in 2007. His work on Rhapsody hints at even more stylistic confusion, especially the early 2005 indie rap album CreekWater. It took a few years for YelaWolf to find his lane and wait for the music industry to figure him out, while demonstrating artistic growth with indie releases like the 2008 EP Arena Rap. By spring of this year, when he released the mixtape Trunk Muzik, his rap skills had improved considerably, and he settled on a persona that mixes hipster thug insouciance with a country persona reminiscent of Bubba Sparxxx. Interscope is reissuing Trunk Muzik this fall.
Collage by Max Warsh.