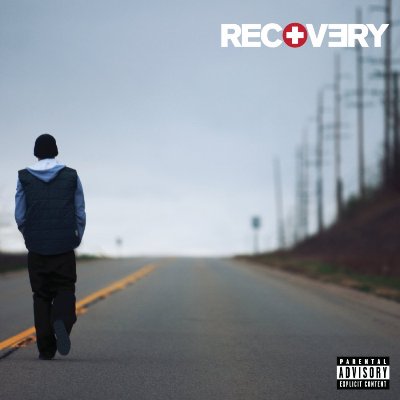 This post represents a shift from how I programmed Plug One in the past. Before, I wouldn't imagine adding a piece about a mainstream artist. But times have changed.
Plug One isn't designed to represent everything I write, but it should reflect my current ideas about hip-hop culture. At the moment, it's important to engage with mainstream culture, if only to try and imagine a space where authentic and imaginative art can thrive. Whether that includes deliberately commercial music or independently released recordings doesn't matter as much. Five years ago, it did — at least to me.
Regardless of the fact that he's a mainstream rapper, I think Eminem's Recovery is a great example of an musician who is valiantly trying to redefine himself. Although I consider it an creative failure so far — with 2.9 million albums sold, it's certainly a commercial success — the album holds some important lessons on artistic renewal for the hip-hop community.
This essay was posted September 22 on the Rhapsody SoundBoard blog. I wrote it for my Rap Is Not Pop column.
—————————
Why Eminem still matters
The rap nerds don't know what to do with Eminem. Ten years ago, they loudly proclaimed him a genius, the greatest MC of all time. He was a master of the 16-bar verse, and a vocal stylist who employed bounce, speed-rapping, and drawling affectations at whim. His lyrical provocations, from turning his ex-girlfriend Kim into a symbol for abusive male-female relationships to exporting Detroit street rap culture to the suburbs, drew kudos from songwriters like Randy Newman and Elvis Costello, and rock dudes that usually denigrated rappers as mumbling, inarticulate hooligans. And as acclaim followed, so did massive success, as megahits like 2000's classic The Marshall Mathers LP blasted through the marketplace.
But now, the hip-hop intelligentsia has written Eminem off. For them, he's just another aging rapper with rapidly deteriorating skills. They believe that his new album Recovery is a noble failure, an unsuccessful attempt to reignite the dying embers of his early 2000s dominance over the pop Zeitgeist. The Internet teems with mockery over some of his lyrics, with this line from the number one hit "Love the Way You Lie" achieving special infamy: "Now you get to watch her leave out the window/ I guess that's why they call it window pane."
So why is Recovery the biggest selling album of 2010 so far? Are critics and hardcore rap fans getting it wrong? Most of them wouldn't readily admit it. They would rather offer Recovery faint praise, musing that at best it's a minor improvement over Em's last two albums, 2004's widely panned Encore and last year's equally derided Relapse.
In some ways, Eminem tailored Recovery as a response to complaints that his music had grown stale, stuck between the Dr. Dre school of classic melodious thump (first heard on Em's breakthrough single "Hi, My Name Is") and his plodding self-produced derivations of the good Doctor's innovations (as heard on "Without Me" and "When I'm Gone"). So Eminem turned to L.A. producer DJ Khalil (Clipse's "Kinda like a Big Deal"), who delivered the scratchy rock-rap "Talkin' 2 Myself" and the glam blues of "Won't Back Down." Drake's right-hand man Boi-1da ("Not Afraid"), New York kingpin Just Blaze, Kid Cudi mentor Emile and Mobb Deep's Havoc also contributed beats. The result is an album that sounds more dynamic than previous Em efforts, yet retains the cinematic bombast that, for better or worse, has become his trademark.
At varying points, Eminem acknowledges criticism of his past work. On "Talking 2 Myself," he memorably dismisses his past two albums by claiming "Encore I was high on drugs/ Relapse I was flushing them out." Other times, though, he sounds prickly. "Critics never got nothing nice to say," he complains on "On Fire," before lobbing yet another embarrassingly bad pun: "I'm so tired of this I could blow/ Fire in the hole."
Throughout Recovery, Eminem sounds like he's still trying to figure out what type of person he has become post-rehab, much less the type of rapper he'll be. He seems to mimic Lil Wayne's penchant for corny punchlines, but without Weezy's humor or lack of self-consciousness. (Indeed, Lil Wayne is the only guest rapper on Recovery. On "Talkin' 2 Myself," Eminem admits "I almost made a song dissin' Lil Wayne/ I was jealous of him because of the attention he was getting.") His stabs at classic Slim Shady shock humor sound forced and half-hearted. He even undercuts an attempt to reprise his woman-hating "Superman" persona for "So Bad" with uncharacteristic moments of tenderness ("Relax woman, you know that I'm only kidding wit' ya"). After the bad parody that was Relapse, he has turned deadly serious and genuinely concerned about his life.
Part of the problem is that Recovery forces listeners to accept Eminem as a broken man trying to put his life back together. This is a stark reversal from the self-proclaimed "white trash" brat who once gleefully air-humped the music industry, called himself a "Criminal" who "hated f*gg*ts" and dropped "Purple Pills." Perhaps it would be easier if he was fighting an adversary, rather than his addictions. As a result, some hear honest introspection in Recovery's post-rehab ballads like "Going through Changes," replete with soaring Ozzy Osbourne arena-metal samples. Others hear self-pitying moans. It doesn't help that Eminem doesn't give a great lyrical performance – I mean, it's hard to look past some of his awful rhymes.
Then again, these days critics seem overly concerned with regional niches and technical virtuosity, whether it be the "country rap" of Big K.R.I.T. and YelaWolf or the laconic weed raps of Curren$y and Wiz Khalifa. In contrast, Eminem's Recovery speaks to the continued power of mainstream hip-hop as a generational unifier and a source of great storytelling. No matter how diminished his once-fluid cadences and rhyme schemes may be, he draws you into his personal struggles with a compelling narrative. And audiences are responding. When he calls out "I'm Not Afraid," he delivers a power ballad that ballasts their emotions. When he rhymes about dysfunctional love affairs on "Space Bound" and "Love the Way You Lie," he sympathizes with young lovers torn apart by violent arguments and traumatic fights.
Throughout Recovery, Eminem displays a continued ability to engage his listeners, even while at his most vulnerable. Whether that means it is a great album or just a mainstream hit remains open to debate. But his fans may simply appreciate the effort.
At one point, he introduces "Talkin' 2 Myself" by saying, "I just want to thank everyone for being so patient these past couple of years while I figure this sh*t out." He even admits he has trouble writing a decent verse sometimes. How many rappers have the balls to say that? Eminem seems to really value us.