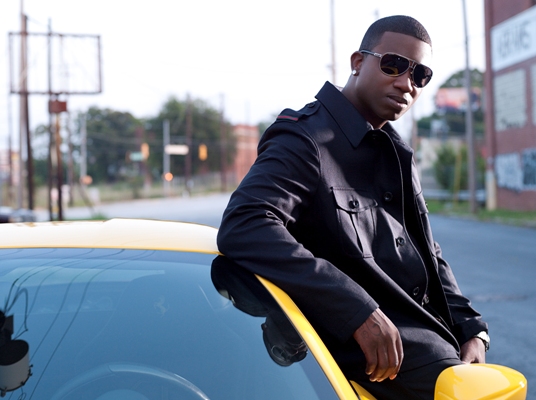 Rap Is Not Pop: The Wonderful World Of Gucci Mane
Several years ago, I interviewed Radric "Gucci Mane" Davis at the office of his former label, Atlanta indie upstart Big Cat Records. He had just finished a six-month bid for assaulting a local promoter with a pool cue, and had narrowly escaped indictment charges for killing a man – the now-infamous 2005 incident when former rival Young Jeezy allegedly sent a team of goons to snatch Gucci's chain – by claiming self-defense. As Gucci and I spoke, his lawyer and publicist listened closely, ready to interject if the conversation veered into a hazardous legal area.
But Gucci didn't seem like a violent felon. He was quiet, shy, and articulate. He nervously revealed that he had completed some courses at Georgia Perimeter College before settling on a rap career, and claimed that he made party music, not hardcore gangsta rap. "I'm a party rapper," he protested. "I like to get it crunk…dancefloor music, that's what I'm best at."
And there lies the contradiction at the heart of Gucci Mane's persona and his music. The Gucci catalog is an adult playpen, with debauched tributes to getting "Wasted" and proclamations that "Kush Is My Cologne." He delivers these club anthems with a nasally vocal tone reminiscent of Hanna-Barbera character Snagglepuss, cryptic Dirty South slang, and plenty of wink-wink humor that makes it all seductive and carefree. "Is you rollin'?" asks a woman on "Pillz" from 2006's Hard to Kill. "B*tch I might be," he answers. For Gucci's first national hit, "Freaky Gurl," he interpolated Rick James' "Super Freak" with intentionally hilarious results: "She's a very freaky gurl/ Don't take her to mama/ First you get her name/ Then you get her number/ Then you get some brain in the back seat of a Hummer."
Without reciting his laundry list of arrests and prison stints, it's safe to say that Gucci has lived the thug life others simply fantasize about. For some, his rap sheet lends his recordings an authenticity: he really is that gold grilled, white tee D-boy partying in the Trap House. But it also allows some critics to dismiss his work as violent and misogynist in spite of his undeniable lyrical talents.
When I discussed Gucci's music with Rhapsody managing editor Sam Chennault, he theorized that Young Jeezy has sold more records because his rap style is emphatic and easy to understand. Indeed, Young Jeezy is all bluster; he litters hit singles such as "And Then What" and "I Love It" with simplistic do-re-mi rhymes and plenty of "Yeeeah!" and "That's right!" adlibs. In contrast, Gucci's lines can be incredibly nuanced. Check his crazily addled rhymes on last year's should-been hit "Lemonade": "Woke up in the morning, f*ckin bought a yellow Aston Martin/ Yellow bricks, yellow dust, yellow ring, yellow tusk/ Yellow pills, spinnin' wheels, yellow weed, we up with us."
I countered that Gucci may have missed his cultural moment. In Zeitgeist terms, trap music – the deep South equivalent of the West Coast's G-funk era – peaked in 2006 with hits like T.I.'s King, Young Jeezy's Let's Get It: Thug Motivation 101 and Three 6 Mafia's Most Known Unknown. Meanwhile, Gucci has been burdened by self-inflicted legal problems. In 2009, he undermined what could have been a major breakthrough, The State vs. Radric Davis, by earning yet another prison stint for parole violations. Though The State managed to debut in the top album charts, Gucci's incarceration damaged its promotional campaign, and by the time he got out in March, its buzz had dissipated.
Released in late September, The Appeal: Georgia's Most Wanted includes a mea culpa from Gucci Mane called "Grown Man." (It's become something of a tradition: On The State vs. Radric Davis, he offered the similarly-themed "Worst Enemy.") It's a hopeful, if slightly cloying number, and Gucci raps too fast on the track, turning his lines into a mushy slur. He sounds more convincing on "What It's Gonna Be," where he brushes back gossip by claiming, "I'm in a zone/ They keep on gettin' offended/ But I ain't did nothin' wrong/ But tighten up my business/ And now I'm makin' millions."
"Grown Man" arrives near The Appeal's close, but earlier album cuts subvert this post-prison epiphany. "Wave bye to the bad guy," Gucci begins on "Little Friend," drawing inspiration from the oft-referenced Brian De Palma flick Scarface. "I coulda been a doctor/ Shoulda been a lawyer/ Go to court so much I coulda been my own employer." "Trap Talk" ("Mac-9 ain't far away and my dog don't even play with me"), "Making Love to the Money," and "Party Animal" draw him back to vivid character sketches of a young prodigy with a taste for guns, drug consumption and girl-chasing, all rendered with a keen intelligence.
Perhaps the most damaging criticism against Gucci Mane is that he hasn't transcended the trap music sub-genre with overt pop ambitions or a compelling album-length masterwork. It's clear why he indulges in gangsta tropes – it's the language of mainstream hip-hop – but he's better at describing them with lyrical grace than explaining why he's fascinated by them, and even willing to ruin his life in pursuit of them. Sure, "lemonade chains with the V cuts" must look pretty, and it's fun to get "white boy wasted." Perhaps objectification and money lust is its own reward, and a motivation for improving a bleak and impoverished existence.
However, The Appeal comes closest than any of Gucci's past albums to presenting his songs in a narrative flow that makes them more than a collection of above-average rap bangers. With help from Nicki Minaj and Pharrell Williams, he offers a glass of "Haterade," dropping allusions to all the problems that have beleaguered him. As Pharrell sings, "Just lift your glass," Gucci answers, "Just think about the future and forget the past."
—————————
This essay was posted October 6 on the Rhapsody SoundBoard blog. I wrote it for my Rap Is Not Pop column.