"Everybody Loves a Clown" tour featuring Atmosphere, Mac Lethal, Grayskul & Luckyiam
Metro, Chicago, IL
October 22, 2007
Anyone who has ever been to an Atmosphere show can attest to Slug and company's cult-like following. While most MCs struggle to fill sweatbox-sized venues, Atmosphere often sells out shows from state to state. On the Chicago stop of the "Everybody Loves a Clown" tour, a full house at Chicago's 1,100-capacity Metro took in another crowd-pleasing set from Minnesota's most revered hip-hop act.
The trouble with many Slug fanatics -— some who came all the way from Minnesota for this show -— is that their obsession with their favorite rapper can often lead them to underappreciate the rest of talent on the bill. No doubt, when Brother Ali opened for Atmosphere in 2003, the kids quickly warmed up to the commanding rhymer. But at this particular show, the reception wasn't as great for openers Grayskul and Luckyiam.
To be fair, people were still slowly coming in when Living Legends co-founder Luckyiam took the stage without a DJ or hype man for his warm-up set. The eccentrically dressed Lucky didn't try to wake up the then-small crowd by jumping around stage begging for a ton of call-and-response. Instead, he cleanly delivered his down-to-earth raps from his solo album Most Likely to Succeed, making sure that every word was heard. What was funny is that the few cheers he received must have sound so feigned that they evoked Lucky to insecurely ask, "Do you really mean that?"
Nobody expects an audience to jump up and down for an opening act they may have never heard of. But having been around longer than Atmosphere, one would think that more would have recognized Lucky from all of his recordings and shows with the LL crew. Let's not forget the collaborations with Slug, either.
Next up was Rhymesayers' Pacific Northwest reps Grayskul, who only got a slightly better response, even though their performance left very little to complain about. With Seattle's up-and-coming rapper/vocalist/producer Grieves supplying the beats, MCs Onry Ozzborn, JFK, and their hype man brought the most balanced set of the show. While the grimy boom-bap richly pounded from the speakers, the energetic JFK led the way with his rapid-fire nasally flow, which was perfectly offset by Onry's relaxed presence and deep vocals. Wisely, Grayskul mostly stuck to the more lively material off their recently released sophomore LP, Bloody Radio, like the quirky, double-time single "Scarecrow." Too bad when Onry asked the crowd how many people had copped the album, he counted maybe five hands.
When Luckyiam came back up for his second set, he opted to take a more upbeat route, and utilized some Living Legends classics like "Addicted," a telling and humorous ode to masturbation. By now audience members were getting a little hype. Still, they probably left Lucky with the feeling that seeing Slug was the only thing on their mind.
The final opener, Mac Lethal, was undoubtedly the most appreciated act prior to Atmosphere. A favorite from the Scribble Jam battle circuit, Mac is a certified Grade-A shit-talker. This Kansas City native's don't-give-a-fuck attitude doesn't translate entirely well on his Rhymesayers' debut, 11:11. But live, this cat is tremendously entertaining. Instead of just performing tracks, he tells jokes and tries his best to relate to the crowd.
What was interesting is how he kicked an airtight freestyle atop Soulja Boy's "Crank That" and even proceeded to do the accompanying Soulja Boy dance with Grayskul affiliate, Grieves. The move made for some good laughs, although when Mac then called the smash single "the stupidest fucking song ever," it just made the moment another hollow mainstream mockery. But Mac isn't one to walk on eggshells. By the time he presented his uproarious drinking anthem "Pound That Beer," the now-tipsy crowd finally looked like they were really enjoying themselves.
Following the only intermission of the show, Slug, Ant and their five-piece tour band stepped up and, of course, the cheers poured in. Looking a little sick and sipping grapefruit juice, Slug took it relatively easy on stage, but looked content performing melodic new tracks such as the optimistic number "Sunshine." For the first time on tour, Slug brought a suitcase full of hats that contained visors, Charlie Chaplin fedoras, and other headwear to match the mood of certain songs. While not necessary, this move did add a Carrot Top-like entertainment element. But what the kids really came to see were the sincere, self-deprecating Atmosphere classics such as "Godlovesugly," which made them switch into sing-along mode.
One could probably ponder for days as to why Slug became the kingpin of indie hip-hop. On this particular night, it was ever clear: he raps without reservation and connects with his audience by just being real. But for whatever reason, the mostly white audience hardly connected with the talented opening acts. A lack of familiarity was obviously partly to blame and understandable. But when Luckyiam and Grayskul are being just as real with just as much fluency, it wouldn't have hurt Slug's devotees to at least nod their heads a little harder.
— Max Herman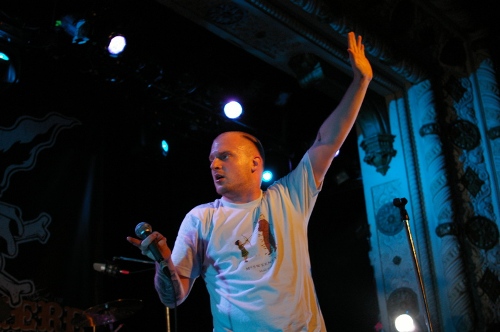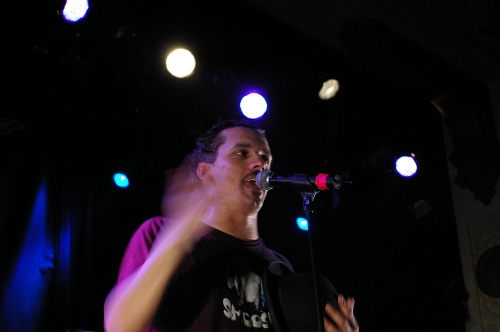 Photos by Max Herman.