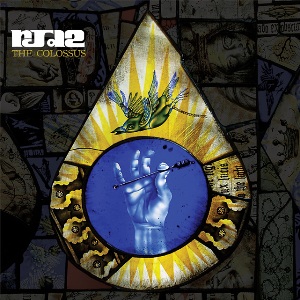 As previously reported, RJD2 will release his fourth album, The Colossus, on January 10 via his new imprint, RJ's Electrical Connections (with distribution by the Orchard). Phonte Coleman, Illogic and Kenna make guest appearances. Sonically, it mixes the singer-songwriter stylings of his last album, 2007's The Third Hand with the instrumental landscapes of Since We Last Spoke. But I'll let him explain in his words:
10 years! My god, that is a LIFETIME! I can't believe I have been making records on a national level for 10 years. In 1999, I was just making these little beats in my bedroom for release on an independent label. Fast forward to 2009, and I'm . . . making these little beats in my bedroom for release on an independent label. Okay, to be fair, some things have changed — a bigger studio, I OWN the studio, I OWN the independent label, and instead of driving 10 blocks to a gig in my hometown, I fly 10 hours to a gig in another country. But when it all comes down to its most basic level, the goal is still the same — to make a piece of music that is going to hopefully rearrange your brain, or at least provide some relief from real life for a moment or two. …

As The Third Hand was my first TRULY solo album, with NO guest performances whatsoever, I decided to do the opposite of sorts this time — an album that is as collaborative as possible, an "overview" of all the different types of working approaches I've used over the years. Some songs are strictly sample-based; some are live; some songs are completely instrumental while others are vocal songs , some have guest vocalists, a few songs I sing myself; and I brought a few rappers on board. As this was all tracked at the same time and in the same place, it has a nice cohesive feel to it, but retains the diversity throughout that I think has become a trademark. It features Phonte Coleman (Little Brother, Foreign Exchange), Kenna (Star Trak, VA Beach), Aaron Livingston (The Roots' Guns Are Drawn), Columbus MC's The Catalyst, Illogic, and NP, and a slew of instrumentalists. And I think I can safely say this is the most sonically lush and varied record I've ever created. The album also marks my debut behind the drum kit ("Games You Can Win","The Shining Path", "Tin Flower","Gypsy Caravan","Walk With Me"). Save for "A Son's Cycle" which features MC's, all songs were written and arranged by myself. When my instincts were telling me that something like horns, flute, or mandolin were needed, I hit the Rolodex. Same goes for the execution of vocals — if a song's vision was something I couldn't pull off myself, I went on the hunt for the right person to pull it off. I'd rather not spend time describing the music, but I honestly do feel that this album is a kaleidoscopic look forward, as well as back.
Here's the track listing:
1. "Let There Be Horns"
2. "Games You Can Win" (feat. Kenna)
3. "Giant Squid"
4. "Salud 2"
5. "The Glow"
6. "A Spaceship For Now"
7. "The Shining Path" (feat. Phonte Coleman)
8. "Crumbs Off The Table" (feat. Aaron Livingston)
9. "A Son's Cycle" (feat. the Catalyst, Illogic & Npayshint)
10. "Tin Flower"
11. "Small Plans"
12. "Gypsy Caravan"
13. "The Stranger"
14. "Walk With Me"