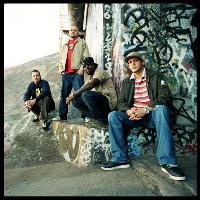 It's been almost four long-ass years since Styles of Beyond dropped their last album, the slightly disappointing Megadef. Some of you new jacks — and is it me, or does it seem like every major indie rapper is over 30? — may not remember that, back in the late 90s, the L.A. group was supposed to be one of the groups that blew up, thanks to the underground classic 2000 Fold.
But after all the crappy record deals and almost nearly breaking up, Styles found fortune with Mike Shinoda, the rap guy from Linkin Park. Shinoda featured them heavily on his solo bow as Fort Minor, The Rising Tied, took them on tour, and signed them to his boutique label, Machine Shop/Warner Bros. Styles have been "in the studio" for a while now, but it finally seems as if their trials and tribulations will come to fruition. A third Styles album is tentatively scheduled to drop in July, according to a Warner Bros. rep.
Ryu, who shares the group with Takbir, producer Vin Skully and DJ Cheapshot, posted an update on Styles' MySpace page. He mentioned collabos with hyphy production dynamo Rick Rock from Federation, J-Dilla (R.I.P.), Apathy, Divine Styler, Celph Titled and the RZA.
"This time we recruited none other then THE RZA himself," writes Ryu. "Now if you're a fan of hip-hop, then you know what THE RZA brings to the table. Known for his classic records with the Wu-Tang Clan. He is one of the best producers in this game and we were blessed to have him with us in the studio. He laced us with an incredible beat that was meant for the upcoming Wu-Tang album 8 Diagrams on SRC Records, so you know he cooked up a beast of a track."
Ryu also revealed that the group completed work on a new recording studio. "Vin Skully, our producer/engineer extraordinaire, designed the place and it looks amazing," he writes. How the group can afford a new studio despite being on hiatus for four years is beyond me. Maybe it's one of those basement joints?
www.stylesofbeyondmusic.com
www.myspace.com/stylesofbeyond