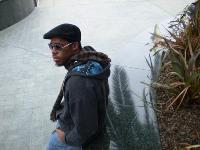 Flying Lotus, the L.A. producer whose memorable debut 1983 signifies the L.A. beat scene's current primacy, has signed with Warp Records. He revealed the news during a February 20 episode of BTS Radio, Andrew Meza's two-hour show on CSU-Fullerton's Titan Radio, where he spun a set alongside Michigan producer Samiyam.
With the signing, Flying Lotus joins an imprint that spawned trendsetting hip-hop artists Prefuse 73 and Anti-Pop Consortium as well as hip-hop-influeneced electronic acts like Autechre, Nightmares on Wax and Boards of Canada. "There's a whole movement waiting to happen," he said during the broadcast.
Since debuting with 1983 on Plug Research last fall, Flying Lotus has developed a strong Internet following, and his miscellaneous tracks are coveted by downloaders. During the broadcast, he disdained the appearance of an online bootleg, Raw Cartoons, that compiles beats he made for Adult Swim, remixes and demo tracks.
He didn't specify when he will make his Warp debut, but hypothesized that he may compile an imaginary movie soundtrack for the label. He is also working on collaborations with Samiyam under the name FlyamSam, and contributed tracks to Declaime/Dudley Perkins' upcoming album Astormsacomin. According to the MySpace page for Japanese imprint Jazzy Sport, he will soon issue an album for them as well. Stay tuned.