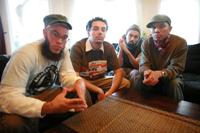 Massline Media may be the most surprising indie label to emerge this year. With little more than persistence and quality music from its founders — Gabriel Teodros, RA Scion, Geologic and Sabzi — the Seattle crew has netted positive reviews in major publications such as Rolling Stone and fomented support from the world's true school believers. Call it the little label that could.
"MassLine's philosophy rejects the notion of art for arts sake, acknowledging that cultural arts is a hammer with which communities can reshape society," reads the bio on Massline Media's MySpace page. "Through the medium of Hiphop music, combined with grassroots community organizing and a DIY ethic, we use music not simply to entertain, but to educate and empower."
Massline currently enjoys a distribution deal with Rawkus. Its next release will be Blue Scholars' second album, Bayani. Before it drops on June 12, however, the Massline crew will embark on an extensive tour, completing several concerts throughout the western United States. Featured on the bill are Teodros, who released his critically acclaimed Lovework in February; Common Market, which dropped its self-titled debut last year; and Blue Scholars. Tour dates, as well as the track listing for Bayani, are below.
5/16: Berbati's Pan, Portland, OR
5/17: Hell's Kitchen, Tacoma, WA
5/18: Raw Sushi, Spokane, WA
5/19: The Loft, Missoula, MT
5/20: Zebra Cocktail Lounge, Bozeman, MT
5/21: Neurolux, Boise, ID
5/22: The Urban Lounge, Salt Lake City, UT
5/23: Aggie Theatre, Fort Collins, CO
5/25: The Nightlight Lounge, Bellingham, WA
5/26: Sasquatch Festival, Quincy, WA
5/28: The Hidden House, Phoenix, AZ
5/29: Hot Monkey Love, San Diego, CA
5/30: Knitting Factory, Los Angeles, CA
5/31: Pier 23 Cafe, San Francisco, CA
6/02: The Grove, Bend, OR
6/03: WOW Hall, Eugene, OR
Meanwhile, here's the track listing for Blue Scholars' upcoming album Bayani:
1. "Baha'i Healing Prayer"
2. "Second Chapter"
3. "Opening Salvo"
4. "North By Northwest"
5. "Ordinary Guys"
6. "Still Got Love"
7. "Bayani"
8. "Loyalty"
9. "Fire For The People"
10. "Xenophobia"
11. "The Distance"
12. "Back Home"
13. "50 Thousand Deep"
14. "Morning Of America"
15. "Joe Metro"
www.masslinemedia.com
www.myspace.com/masslinemedia